Where the college falls short of supporting FLI students, Barnard Mutual Aid shows up to fill the gap.
If you're a member of the Barnard community this year, you've likely heard about Barnard Mutual Aid. Whether you've noticed them from the flyers scattered around campus, or their incredibly popular social media posts, the fund has become one of the fastest-growing and arguably most important organizations on campus. However, if you're not directly involved with the organization, you may not be familiar with their remarkable story, or the essential service they provide to low-income students.
The idea to found Barnard Mutual Aid first occurred to Avalon Zborovsky-Fenster (BC '24), in the fall of 2020, when she noticed a recurring theme emerging through conversations with fellow students: struggles of rising financial need as a result of the pandemic and a lack of access to institutional resources at Barnard caused by that need. As she explains, "not having enough money for something doesn't end there. It means not being able to take on an unpaid internship, not being able to buy food, not having transportation or access to basic necessities—it means not having access to a lot of the most important things the college has to offer."
However, the fund truly came to fruition in July 2021, when Zborovsky-Fenster, realizing that financial need would only be exacerbated as students returned to campus in the fall, decided to set up a fund to help support FLI—first generation, low income—students on campus. Her initial hope was to raise a few hundred dollars and provide even a small amount of support for a few low-income students who needed it most. Three days later, the fund had raised $2,000.
In Zborovsky-Fenster's view, while the fund's balloon in popularity is overwhelming, and speaks to the strength of the student community, it's also bittersweet. "Students feel compelled to give to others," Zboronvsky-Fenster commented, "even when they're struggling, because the systems that are in place to support them aren't working the way they're supposed to, or at least the way they're credited to."
Indeed, with this rapid influx of donations came an even greater influx of requests. In its first 24 hours, the fund had received over $3,000 in aid requests, and as the tuition deadline approached in early August, this number reached $6,000. As the requests streamed in, two things became clear: students in financial need were not receiving the institutional assistance they needed from the college, and a network of community support was more important than ever.
In many ways, where institutional support for FLI students stops, Barnard Mutual Aid fills in the gap. Students request aid for everything from groceries and essentials to covering tuition costs, things many assume to be covered for low-income students through institutional aid. Using the fund is simple: through Venmo (@barnardmutualaid), students can request any amount of money by providing their name, UNI, and a few short sentences explaining why they're requesting, and organizers will redistribute funds based on the urgency of the request. Furthermore, the fund ensures that while the available money in their account is being redistributed, they are simultaneously raising additional donations to meet all student requests. On principle, Barnard Mutual Aid does not police or reject any requests; it only asks that students remain "personally mindful" and respectful of other requests, not taking more than they need. Donations follow a principle that Zborovsky-Fenster describes as "give what you can, take what you need," ranging anywhere from $1-$500. As a result, the fund has been able to raise nearly $30,000 and has helped hundreds of Barnard students with everything from small groceries to emergency expenses to rent and tuition payments. However, students are still encouraged to continue to donate so that the fund will be able to cover the myriad of expenses FLI students face.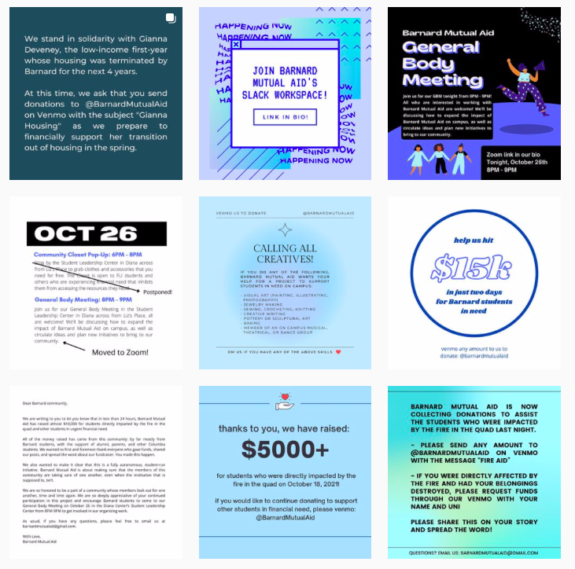 If the need for Barnard Mutual Aid was ever in doubt, it became especially apparent this month in the aftermath of an accidental fire in Brooks Hall, which destroyed the belongings of Gianna Deveney, an FLI student living in the room where the fire started, as well as students in other Brooks rooms. While Barnard administration officials repeatedly published statements referring to the fire as "small" and the impact as "brief," Zborovsky-Fenster reports that the low-income students who lost their belongings in the blaze were left without access to financial support from the college in replacing them, forcing them to turn to Barnard Mutual Aid for support. This split in action became even more apparent when, while students were rallying to support Deveney in replacing her lost belongings, the college announced she would be permanently removed from Barnard housing. For many observers of the crisis, Barnard's response represented a prime example of the college failing to support low-income students on an institutional level, despite promoting itself as a need-blind, FLI-inclusive institution.
Within two days, Barnard Mutual Aid had raised nearly $10,000 to replace the belongings of Deveney and others impacted by the fire. By the end of the week, the fund had raised so much money that—with the consent of those impacted by the fire—organizers were able to redistribute excess donations to students who had submitted unrelated requests for aid. To Zborovsky-Fenster, this represented a striking difference in reaction to the fire between the college and the community. While Barnard's response seemed to have "minimized the intensity and significance of that situation and what happened to those students," the larger community quickly recognized its urgency. In the aftermath of the fire, fellow students, alumni, and parents gathered together, accumulating hundreds of donations to Barnard Mutual Aid, to support the students whom the college had seemingly ignored. For Zborovsky-Fenster, this perfectly encapsulates the mission of Barnard Mutual Aid: building a network of support that students in need can consistently rely on. While the community response to the crisis was deeply encouraging, she hopes that the energy and excitement around mutual aid and community care will continue past this moment. "There are constant financial crises in our community, and those stories are rarely highlighted in the same way," she said.
While Barnard Mutual Aid has made a massive impact on the student community through monetary aid, their latest initiative, the Barnard Community Closet, aims to expand their network of support to the redistribution of other essential resources. As Mariame Sissoko (BC '24), an organizer of the closet explained, "Clothing insecurity is very real here, and for FLI students, it gets difficult to find clothing and feel stylish and fashionable." The community closet's goal is to ensure that all students have access to clothes that make them feel stylish and comfortable without taking on an inaccessible financial burden.
The idea first emerged when Zborovsky-Fenster was processing aid requests and noticed that one student had requested aid in purchasing their first winter coat. "It immediately clicked: we need to be providing free clothes that students need and would still like to wear." Since then, the closet has emerged as a resource for students to find clothes that they both need and want to wear. Like its finance-based counterpart, the Community Closet aims to provide an essential resource to students in need with discretion and dignity. To uphold this mission, organizers have made sure the Community Closet only holds popup events in locations that both assure anonymity and discourage students not struggling with financial need from using the closet as a thrift shop.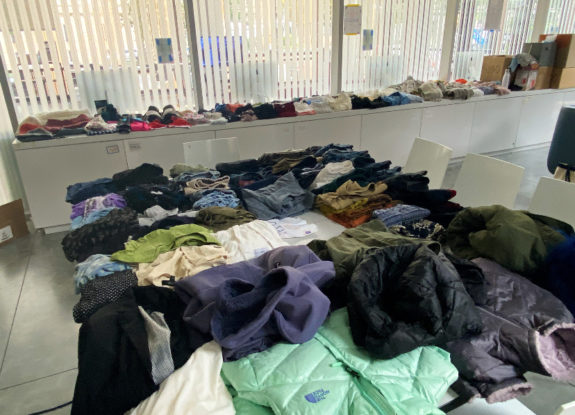 At the same time, the organizers behind Barnard Mutual Aid have continually emphasized that they want the fund to be a resource for the entire Barnard community, and encourage any student experiencing a financial need to submit a request or visit the community closet. As Sissoko describes, an invisible obstacle for those who may need the support of Barnard Mutual Aid is the sense of imposter syndrome that can stem from being an FLI student at an elite institution like Barnard. "We perpetually imagine this invisible other who needs these resources more than us," Sissoko commented. In response, on October 9, shortly before the Community Closet's first pop-up event, Barnard Mutual Aid published an open letter, written by Sissoko, containing a powerful message to all students in need: "Barnard Mutual Aid sees you, and we are here for you."
In Sissoko's view, "a tenet of mutual aid is to know you safely have a community that you can go back to at any time." For Barnard Mutual Aid, part of creating this community is ensuring that the resources they provide are accessible to every student in need.
Looking to the future, the organizers of Barnard Mutual Aid hope the organizing body continues to expand, eventually becoming a non-hierarchical, diverse representation of the student body that is "ingrained enough in the community to keep a finger on the pulse of what the community actually needs." They are currently reaching out not only to students interested in fundraising or organizing community closet events but to creatives in the Barnard community, hoping to expand their pop-ups to community events that both raise interest in and donations for the fund and provide the Barnard community with opportunities to come together.
In an immediate sense, the organizers of Barnard Mutual Aid want the fund to be able to provide support to any student who needs it. In the future, they hope to see Barnard Mutual Aid contribute to a larger cultural shift toward community care, becoming a "long-term, self-sustaining student-run initiative," as deeply ingrained in the Barnard community as many of the college's institutional resources. Describing her ideal vision for the fund, Zborovsky-Fenster said, "I want Mutual Aid to still be here after I graduate. I want it to be here long after any of us graduate. I hope that once I'm gone, there will be a solid enough infrastructure for the organization and initiative that students can always trust that what they need will be available to them."
Of course, in an ideal world, "Barnard Mutual Aid wouldn't have to exist," says Sissoko, because the college would be doing enough to support FLI students on its own. Until then, you can expect to see Barnard Mutual Aid showing up to fill the gap.
You can follow Barnard Mutual Aid on Instagram @barnardmutualaid for updates on fundraising and the Community Closet, and you can submit donations or requests to @barnardmutualaid on Venmo.

Students can also volunteer with the organization by emailing barnardmutualaid@gmail.com for more information
Community closet via @barnarardmutualaid
Instagram grid via @barnardmutualaid