A reported mattress fire in Barnard's Brooks Hall led to evacuation of the Quad dorm building earlier tonight.
At around 9 pm on Monday night, students received reports of a fire on the sixth floor of Brooks Hall. Further reports from the Citizen app claim that it was a mattress fire.
According to recordings of FDNY correspondence via the Citizen app, the fire was reported with a phone call at 9:12 pm EST and was described as having a "duration [of] 35 minutes" when FDNY personnel were inside Brooks Hall at about 9:49 pm. Quad residents were evacuated and encouraged to gather on Futter Field, in the Diana Center, and in the Milstein Center, as Barnard CARES advises that everyone maintain distance from quad access points. Emergency vehicles, including FDNY fire trucks and ambulances, arrived at the Barnard gates. Barnard CARES also asks any students remaining in the quad to evacuate now, via the nearest stairwell, and to contact CARES at 212-854-3362 if they require assistance. Students are being asked to avoid Broadway to facilitate emergency vehicle access.
Bwog inquired about the cause of the fire and an estimated student return time to the dorms; however, a CARES representative claimed they could not confirm any of the aforementioned information or provide any additional information to students. Bwog also contacted FDNY, and they replied with the following information over email: "2112 Hours. 3005 Broadway. For reports of fire. Building was a 9 story Highrise. 20 units responded about 78 members. Fire placed under control at 2153 hours. No injuries reported."
Currently, the main entry gates to Barnard's campus are closed, and traffic is blocked from entering and exiting the campus. Students can exit the campus from the basement in Milstein at time of reporting, but it is not possible to get back in.
Students are currently congregating in the Milstein Center and other locations on campus. Caroline Ulrich, BC'25, said that "We were kind of confused when the alarm went off because I don't think it was our [Sulzberger dorm's] alarm," and "Brooks is right next to us, so I think [the alarm] was from there." Other Barnard first-years, who chose to remain anonymous, reported that they did not hear the Brooks' fire alarms go off.
Notably, Barnard's heat was turned on for the first time at about 4 pm today as temperatures reached 55 degrees. Typically, New York City heating season begins on October 1, but according to a Barnard RA, dorm heating was not turned on until today, and residents were not warned ahead of time. 
Additionally, a pipe reportedly burst on floor 6 of the Quad, and there is water damage through floor 5, according to an anonymous source.

Email sent to Barnard students from Dean Leslie Grinage on Tuesday, October 19 at 12:35 am:

Dear Students,
This evening a little before 9:30 p.m. a fire was started unintentionally and spread across two rooms on the sixth floor of Brooks Hall. Students in the Quad were immediately evacuated and have been temporarily relocated to the Milstein Center and Futter Field. President Beilock and I are currently on campus checking in with students and the Residential Life and Housing staff is providing assistance. Impacted students will be reassigned to other rooms on campus and the remaining students living in the Quad will be allowed to return to their rooms shortly.
Barnard's Community Accountability, Response & Emergency Services (CARES) and the New York City Fire Department (FDNY) responded immediately, contained the fire, and have confirmed that there are no reported injuries. The safety of our students is always our first priority.
Please know that counseling and other support services are available, if needed. Furman counselors are on call and available this evening at 855-622-1903. Students who are seeking emotional support tomorrow or in the coming days can call the Furman Counseling Center at 212-854-2092.
We are thankful for the quick and thorough response of Barnard staff members, as well as the support provided by the FDNY and the New York Police Department. We thank you for your patience and cooperation this evening.
Sincerely,
Dean Grinage
Update on October 18 at 11:29 pm EST:
Sleeping bags in Barnard buildings, like the Diana Center and the Milstein Library, will be provided for the inhabitants of the eight dorms who were affected by the fire, according to a Barnard administrator. The administrator also said that other students living in the Quad may return to their dorms in about a half hour.
Update on October 19 at 12:51 am EST:

This article has been updated to include Dean Grinage's email to Barnard students.

This is a developing story—email tips@bwog.com with any pertinent information.
Images below are the collaborative effort of Bwog Staffers throughout the night.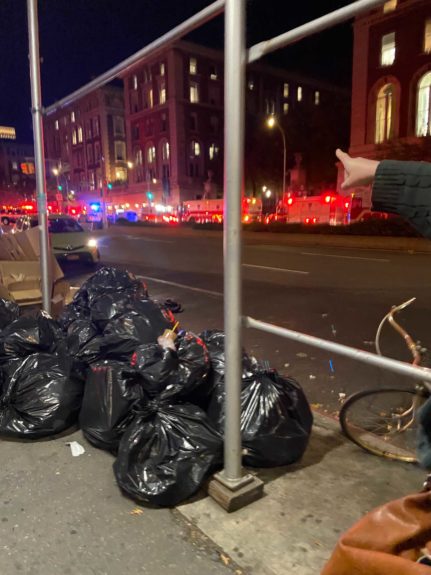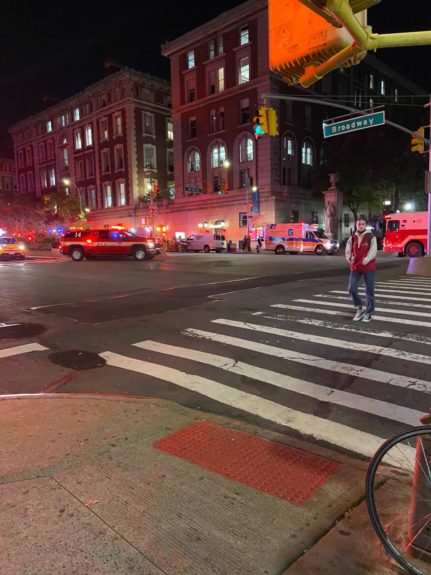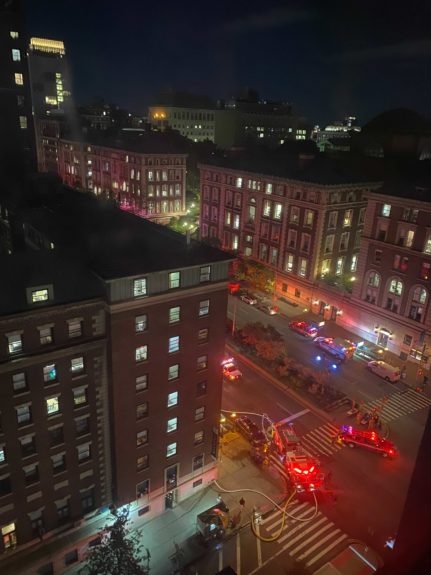 Quad with FDNY via Kyle Murray