With Lunar New Year just barely in the rearview mirror and the freezing rain forecast this week, I am craving Chinese comfort food now more than ever. We have taught you how to make a delicious, sweet red bean rice cake dessert last week, but now we tell you how to make a super quick, savory rice cake dish that will leave you feeling warm and satiated. For all my Shanghainese brethren reading, this one's for you.
These stir-fried Shanghainese rice cakes are a perfect dinner because it's so quick and easy (~15 minutes) but it feels like a real meal that you can pat yourself on the back for attempting. It requires only one pan, and it's got plenty of everything— protein, veggie, and carbs. Besides, H Mart has got all the ingredients you need.
When I cook this, I usually eyeball all the measurements, so the numbers below are just recommendations. Feel free to eyeball as well.
Ingredients
1 bag of rice cakes*
8 oz of pork (or chicken or tofu)**
8 oz of Shanghainese bok choy (Napa wine cabbage)
8 oz Shiitake mushrooms
2-4 garlic cloves
¾ cup of water
1 tablespoon of soy sauce
3 tablespoons of olive oil
Dash of salt
Lots of white pepper (black pepper is fine too)
*The thin oval ones pictured below are preferred and normally they can be found at H Mart. However, they happened to be sold out when I went this weekend :'( so I am using the round tubular ones as substitutes.
Steps
Rinse the rice cakes in cold water and drain. Thaw your rice cakes if you are using frozen ones.
Wash your bok choy (or Napa cabbage) and mushrooms. Slice the mushrooms and cut the veggies into bite-size.
Add olive oil to your pan on medium/high heat, and then cook the pork in the pan until the pork becomes opaque.
Add the vegetable, mushroom, and garlic cloves into the pan. Stir fry for a minute.
Add the rice cakes on top of the pile of vegetables and pork. Then add the water and cover the pot. Cook for two minutes.
Add the soy sauce, salt, and white pepper, and stir everything together to make sure all the rice cakes are coated. Once the rice cakes are soft and chewy, turn off the heat. Voila, you got yourself a hearty, hot plate of rice cakes!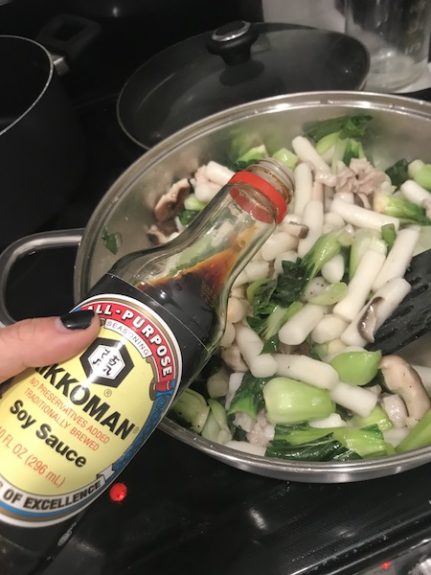 Alternative result with round, thin rice cakes: