Want to live in a cute brownstone with your best friend and live our your "I'm a real New Yorker dreams"?
Location: 548 W 113th, next to Symposium, the Greek restaurant
Nearby dorms: McBain, across from Watt, and smack in the middle of frat row! It probably gets a lil loud at night because of Frat Row but it's a give and a take.
Stores and restaurants: Symposium (duh), Junzi, Dig Inn, Tom's, Oren's, a Chase ATM, Milano Market, Duane Reade.
Cost: projected 10,474/ year for upperclassmen resident
Amenities:
Bathrooms: One bathroom per double (excellent ratio might I add). The showers are small-ish but it's ~New York baby~
AC/Heating: No A/C. The building has a supervisor, Doug, who responds quickly.
Kitchen: One kitchen per double. Comes with a full-sized fridge, sink, and stove. You have to take the trash out yourself and clean it yourself.
Lounge: none officially but there is a lobby with a TV where you can hang out
Laundry: just the one washer and dryer in the basement but since there aren't a ton of residents in the building, it shouldn't be an issue
Computers/Printing: no :(
Gym: also no :( but you can print and (bench)press in one swift trip to campus and combine printing and going to the gym!
Intra-transportation: No elevator, so it is not disability-friendly.
Hardwood/Carpet: hardwood baby!
Bonus: Every room has a cute, retro (blocked off) fireplace! And maybe a balcony! And some suites have rooftop access which is cool
Room variety:
All doubles over 5 floors for a total of 16 residents. On floors 2-4, there are two doubles on each floor. In the basement, there's one double, and on the first floor, there's an RA + rider.
Numbers:
2- person suites: 20/1237 2018-19 school year, 20/1924 for the 2017-18 school year. Can't be certain about much because who knows what is going on anymore and housing last year basically didn't occur but Juniors y'all definitely got a shot!
Bwog recommendation:
Symposium seems like the hidden gem of Columbia housing! You get the benefits of living in a real NYC brownstone while still being close to campus. Grab a friend and you can be living life super cozy in your BROWNSTONE. You have your own address so you can get mail directly delivered to you which is incredible. Although the roof and backyard are strictly forbidden, it's nice to know the space is there. Not having a security guard is also a game-changer if you have a lot of Barnard/non-Columbia-related friends that you want to have over.
Resident opinions:
"Doug, the super, is an angel."
"[We] lived in the basement room of Symposium for both Junior and Senior year and had NO COMPLAINTS but the lack of light (which makes it especially cozy for sleeping in). The basement unit specifically has the biggest square footage and we were able to fit a long couch and both our desks on one side of the room and our beds head to foot with another dresser in the middle on the other side.We had two bookcase and a coffee table comfortably and another table and chairs in the kitchen area."
"No security guard means no judgements for hookups which is a blessing"
"Unlike other Columbia dorms only people who live in the dorm have swipe access…you have to walk downstairs to open the door to let everyone in, but you don't have to use sign-ins so you can have as many Barnard / non-Columbia friends over as you want."
"It's good if you're sick of dorm life and want to feel more like a real person without splurging on NYC apartment prices."
"4R is the smallest double, but it has a balcony and roof access."
"The RA lives on the first floor so do as you please with that information."
"The stairs can be tough when you're drunk and live on a higher floor."
"It's all one-room doubles so pick a roommate you're ready to get cozy with. But you have your own kitchen and bathroom which is tight."
"We didn't have any issues with bugs or mice or anything."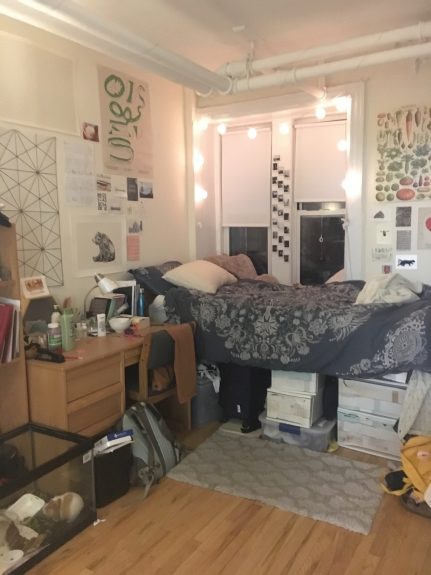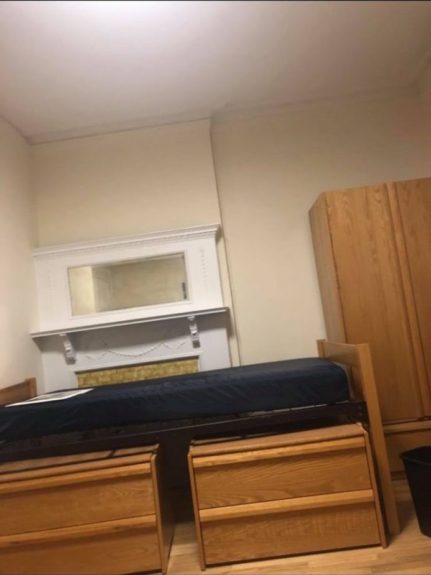 Symposium via Bwog Archives.