On Thursday, March 25th, Staff Writer Mary Qiu had the pleasure of joining Adriana Urbina's virtual cooking experience and learned to make some delicious, dorm-friendly chickpea-loaded sweet potatoes with lemon tahini.
As part of the Celebrity Chef series celebrating accomplished women in the culinary world, Barnard Dining invited Adriana Urbina, the three-time winner of Food Network's Chopped—the only Latina to do so three times— to teach us this hearty recipe full of spices. Besides her role as a distinguished chef, Adriana is also an immigrant from Venezuela, owner of Tepuy Dining, and an activist on issues like immigration reform, women's rights, and social advancement of Venezuela. I left the event feeling full–not just satiated with the sweet potatoes that I had consumed, but also nourished by Chef Urbina's enthusiasm and drive.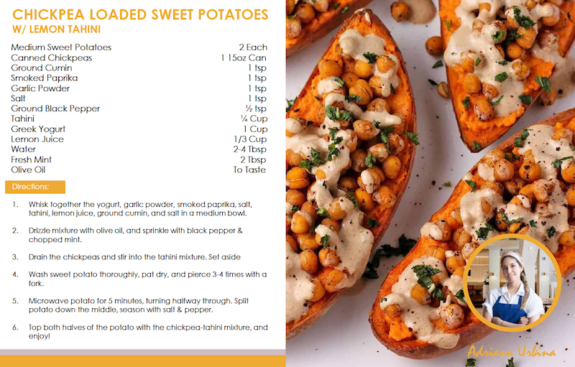 With no meal plan this semester, I have come to rely on my own cooking for survival. My food always tastes the same, though, so I was beyond excited to join Chef Urbina and looked forward to finally satisfying my deprived palate. The cooking turned out to be unbelievably easy, and it did not take me more than 10 minutes to put the dish together. I was a huge fan of the chickpeas with lemon tahini, and I can't wait to try them on a salad next time.
When I first looked at the recipe though, I was taken aback by the instruction to just microwave the sweet potatoes. It works, but my sweet potatoes could have used a few more minutes in the microwave. I recommend poking through the sweet potatoes to check that they are cooked as thoroughly as you would like before loading them with the chickpea mixture. This dish is also extremely modifiable. Chef Urbina noted that the Greek yogurt can be easily swapped out for coconut milk and that the tahini can be substituted with peanut butter or completely taken out.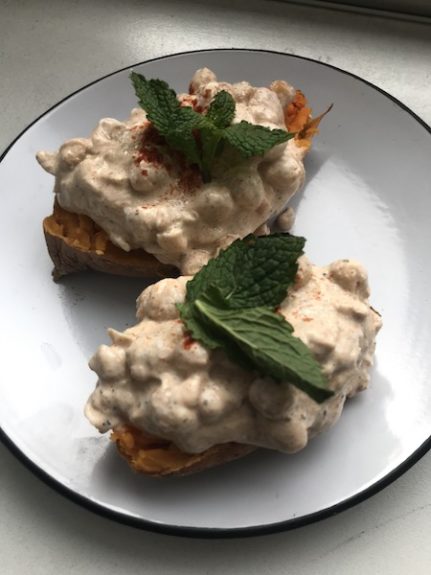 Chef Urbina emphasized that her cooking philosophy is to "use everything" and urged us to keep the skins on the potatoes or to save them and bake them with olive oil later. I will admit—I am one to toss the peels. I kept them on this time, and I am excited to save some peels next time and make crisps out of them. Her zero-waste approach to cooking encouraged me to be more conscious of the food waste when I cook and gave me hope that the restaurant industry as a whole is moving towards the same mindset on prioritizing sustainability.
Beyond the cooking though, I was moved by Chef Urbina's culinary journey—the challenges she faced as an immigrant woman and the perseverance she exhibited writing to food publications for years to get them to review her pop-up restaurants. During the Q&A session afterward, she said that her rise in fame came about because she wrote to many publications for two years until Easter finally reviewed her pop-up restaurants, which led the Food Network to discover her. She also recounted her lack of fluency and confidence when she first moved to New York City that held her back from many opportunities in the industry. She stressed the importance of being confident, reaching out and talking to people, and finding a supportive community of mentors and friends. To young women who aspire to become entrepreneurs, she advised them to trust in their ideas fully and to not let voices of doubt sway business decisions.
I enjoyed Chef Urbina's ebullient and welcoming personality, and her willingness to share her experience and impart wisdom. Cooking has always been intimidating, but I felt warm and comfortable with her presence. Chef Adriana Urbina's ability to teach these simple and delicious recipes and make those cooking feel at home seems, at least to me, a hallmark of a great chef. Maybe I will actually watch an episode of Chopped.
Banner via Barnard Dining
Recipe Card via Barnard Dining
Photo of Chickpea and Sweet Potato Goodness via Mary Qiu