An introduction to the micro (and macro) celebrities next door.
Columbia University is the alma mater of numerous notable figures, from famous chef, author, and television personality, Martha Stewart, to the only reason half of the students at Barnard decided to go there, filmmaker Greta Gerwig. But what about the rising stars on campus? Who will be the next Langston Hughes or Margaret Mead*?
Leaving Barnard's campus a few weeks ago, I spotted a guy I recognized from Instagram. As a freshman who had been on campus just three days, I was desperate to make friends any way I could, so I decided to introduce myself. Unfortunately, however, I couldn't seem to remember the kid's actual name. As such, instead of just carrying on and not being weird, I took the road less traveled by, frantically shouting, "Soup Boy!" to get his attention. To my surprise (and embarrassment), Soup Boy actually stopped and turned in response.
It turns out that Soup Boy's real name is Bolu. I referred to him by this lovely liquid meal due to a recent controversial Instagram story he had posted in which he asserted that soup is bad. Soup, of all foods! Who would dare make such a bold and offensive claim, and in such a public manner? Ah, but this is precisely what it takes to be a true niche micro celebrity: daring, fearlessness, fortitude.
Like Bolu, several micro (and macro) celebrities attend Columbia's colleges. Many are well-known from Twitter and Instagram, but some even have their own Youtube channels, or star in acclaimed TV shows.
Myesha – @myeshatheestallion
Known as @myeshatheestallion on Twitter, this Columbia junior has 13.5k tweets and over 17.2k followers. As advertised in Myesha's bio, rapper Cardi B retweeted one of her tweets from January of this year. The tweet, which captions a photo of Senator Bernie Sanders sitting alongside Cardi B, reads, "isn't this that couple from modern family?" The musician even commented on the post, writing, "this app is annoying, I'm logging off."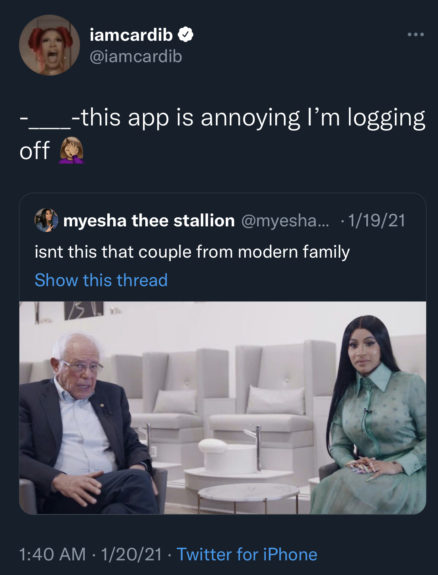 Myesha's content is not only funny, but relevant and relatable. For example, the certified micro celebrity recently tweeted, "NICKKIIIIIII???" My thoughts exactly.
Izzy – @izzylapidus
Izzy, known as @izzylapidus on Instagram, is indeed, as her bio reads, "very stem very swag."
Studying computer science and education at Barnard, Izzy is an ambassador of Kode with Klossy, a nonprofit organization driven to empower women in tech. She's even building her own website, @wearevsvs, with the goal of "rebranding STEM."
With 1.7k followers on Instagram, Izzy's content revolves mostly around coding, women in STEM, and being a girlboss.
Yau – @pwittyboyclub
Yau was walking with Bolu the night I heckled them, but I didn't realize until several days later that there had been not one, but two micro celebrities in my midst!
Yau is most popular on Twitter but has several other accounts (which he believes are too "edgy" to be mentioned here) on different platforms. At the time of writing this article, @pwittyboyclub has just over 400 Twitter followers. His comedic talents include tweeting gifs of Anna Kendrick, quoting Big Kuza, and retweeting fellow micro celebrities.
Marcel Ruiz – @itsmarcelruiz
Marcel Ruiz might be the most macro, micro celebrity on campus. So macro, in fact, that he probably shouldn't be on this list. Oh, well. Too late.
Ruiz plays Alex Alvarez in the series "One Day at a Time" and is a first year at Columbia. With over 489k Instagram followers, his own clothing line, and an Imagen Award for Best Young Actor (2017), he's, like, actually famous. I cannot emphasize this enough. And he chose to go here? Wack.
@weloveprezbae
I am coming to the conclusion that I don't actually know what a micro celebrity is. Does it count if they're anonymous? Whatever—my article, my rules! Suck it, Bwog! (Kidding, I love you.)
The anonymous creators of the premier President Beiloch stan account began posting in September of this year and have since racked up 235 followers. Their first "fancam" of the President (posted on September 2nd) currently stands at nearly 1.5k views, half of which are mine.
Frankie Jonas
Again, it is clear that I have no idea what a micro celebrity actually is, but I couldn't neglect my Bonus Jonas king, Frankie. That's right, folks, the youngest Jonas brother currently attends Columbia! (Frankie, if you're seeing this, please hmu. I'm free Saturdays. Love you.)
@Incellectuals_Columbia
@Incellectuals_Columbia on Instagram is an up-and-coming meme account run by users who would prefer to remain unnamed. I don't blame them—being a micro celebrity is hard.
Their content revolves around the thoughts and experiences unique to a Barnumbia education; for example, two of their recent posts read, "I redownloaded Tinder in the Ferris dining hall line," and, "I'm scared of the Barnard baddies." So true!
As of writing this, the account, which was started only two days ago, currently stands at 510 loyal followers, though it's sure to keep growing.
Me
Yeah, okay, so I'm not famous in any capacity, but isn't that the point of being a niche micro celebrity? (Maybe not, but let's just pretend for a second.) Perhaps I'm simply the micro-est micro celebrity. The least influential. The most niche.
Alas. It's alright, I truly have no desire to be famous. That said, it might be nice to be known enough to be referred to (just once, perhaps) as a food-related epithet. A girl can dream…
* I'm related to her! Yes, the mother of modern anthropology.
Fame via picpedia.org