Featuring Tai chi-ing away stress culture and infant-swallowing bjorns.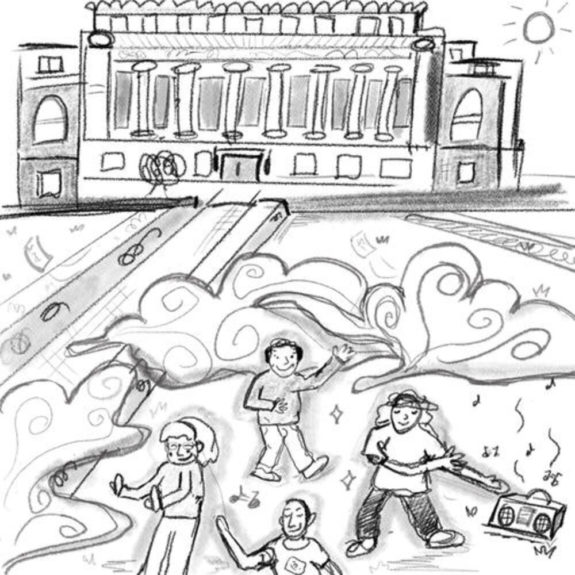 Tai chi on Butler Lawns
Amidst midterm craziness, one highlight of my week was having the absolute pleasure, the ethereal experience, of watching a group of folks doing Tai chi on Butler lawns. It was truly otherworldly; a cloud of calm energy seemed to surround them. It was very meta because they were performing the world's most meditative exercise in front of the literal shrine to stress culture. Another reminder of the craziness of this week? This meditative scene was set to a distant soundtrack of "Call Me Maybe" by Canadian icon, Ms. Carly Rae Jepsen: a bop that was floating through the air from the direction of 116th street. Nevertheless, meditative elders are always a good reminder to slow down in life, especially this week (I'm looking at you CC Kings of Stress Culture). 

Small baby, Large baby Bjorn; they grow up so fast
At a homecoming brunch this past weekend, as I watched the repercussions of bottomless brunch in MoHi ensue, I saw a new dad pass my table. He looked to be wearing a black backpack and was scrolling through Instagram, perhaps taking a #dilfselfie. He seemed unfazed by the crowds of yelling college students and carried himself with a suave and calm particular to the young, social-media-adept, slacks-wearing young father he appeared to be.
However, upon second glance, he was, in fact, donning a baby bjorn, which has a literal infant in it. This jarring phenomenon was only detectable to me from the two cylindrical, short chubby legs donning pastel pajamas and swaying outside of the Bjorn. The baby Bjorn was swallowing this infant. Baby Bjorns are meant to be backpacks to carry toddlers in!! Paradoxically, as my face adjusted in confusion and concern, a young, intoxicated underclassman girl across the street was loaded on the CUEMS ambulance. In that moment, mimosa in hand, I felt the circle of life hit me in the face like the Dig Inn odor at 11 am. They grow up oh so fast :) This child looked like it had never seen the light of day, and, in its oversized Bjorn, was being taken on a leisurely stroll through a holiday crowd dedicated to day drinking. Anyway, dad mode, I guess. 
All images via Ava Morouse