Romanticizing life in a Milstein green chair, avoiding dairy, and being queer: the clear things helping make Barnard students feel and do well.
In the midst of the growing consciousness and normalization of conversations in regards to students' mental health, Barnard College introduced the phrase 'Feel Well, Do Well' onto campus in the Fall of 2019. "Feel Well, Do Well @ Barnard" is an initiative that was introduced as a new movement to promote health and well-being on campus. Feel Well Do Well "integrates the core principle of your wellness, your way to set the standard of what health and wellness can look like on a 21st-century college campus." Acknowledging the coexistence, and, honestly, the causal relationship, between mental wellbeing and academic success in college, "Feel Well, Do Well" aims to promote physical and mental wellbeing, ensuring equity of services and inclusion of all identities, and creating spaces for conversation and connectedness.
All of this information was learned from an easy browse on the "Health & Wellness" page of Barnard's official website. My knowledge of "Feel Well, Do Well, however, came from the exposure of their logo, seen everywhere from posters to masks around campus. This logo, I realized, was so mysterious, to me. So ambiguous, so simple. Sleek design, yes, and a logo almost universal in nature. It makes sense—how do you pictorially represent mental health? But it got me thinking. And, thus, an illustration-based series was born.
The inspiration for this specific project came from a combination of the deep desire to create Barnard-specific stickers inspired by the ambiguity of the "Feel Well, Do Well" sticker, which, upon first glance, could represent a multitude of organizations. The series of abstracted, interlinked figures could be dancing, doing yoga, making an artistic statement, and more. And Barnard baddies LOVE a sticker. Milstein library is home to a gallery of sticker-covered laptops, Nalgenes, notebooks, each arrangement of stickers creating a network of personal statements and aesthetic curation.
So, I decided to create a series of Barnard-specific stickers based on the original "Feel Well, Do Well @ Barnard" sticker. Easily imagined on a laptop, I hope that these stickers can resonate with the experience of every Barnard student and this little school :)
Feel Well, Do Well, In a Milstein Green Chair
Need I say more? Barnard's real-est ones understand this, one thousand percent. Whether lounging, taking a mid-day nap, people-watching onto the transitional periods between classes, pretending to read while your ex wanders past at 11 pm, or simply being the main character—Milstein's green chairs deserve all. the. hype. Bestowing this sticker on your laptop would truly reach the right audience.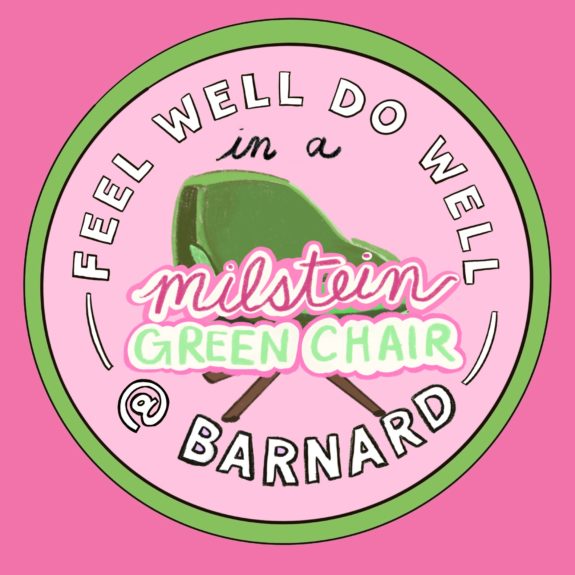 2. Feel Unwell and Take Your Meds @ Barnard
Again, self-explanatory. As the illustrated Rx bottle reads: "HWC baddies, Take once-per-day with iced drink of choice." Perhaps serving as a reminder on your colorfully-clad Nalgene bottle, this sticker has incredible potential to bring together communities and can be a cute little conversation starter for all of us ~going through it~ at this beautiful institution <3

3. Look Hot in Your Socratic Seminar @ Barnard
What Barnard gal doesn't love a roundtable discussion? Engaging in intellectual, bold, and beautiful back-and-forth never seemed so #girlboss, and this sticker can be seen on any Barnard baddie's laptop and a reminder to indulge in some main characterization on Barnard's little campus.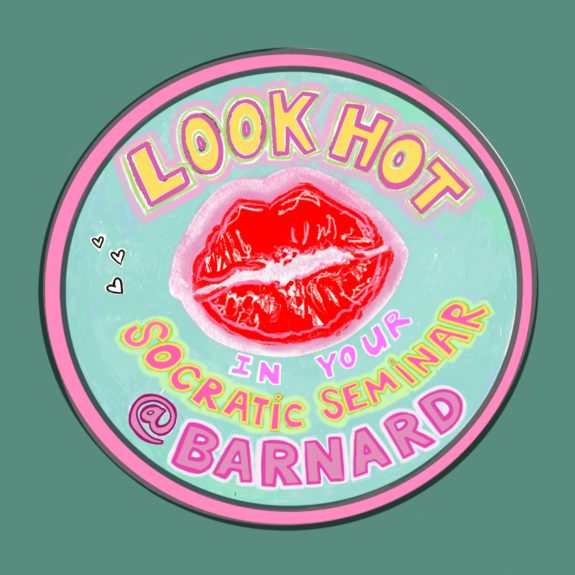 4. "Feel Well Do Well Ke$ha Was Literally My Classmate @ Barnard"


**See Bwog article: "A Close Reading Of Ke$ha Lyrics As They Reflect The Three Months She Spent At Barnard." Did you know that Ke$ha scored a nearly-perfect 1500 out of 1600 on her SAT? Or that it has been said that she planned to major in Psychology and Religion (my queen), and attended Barnard for three months before being propelled into the spotlight after being featured on the absolute banger that is "Right Round" by 2010s superstar Flo-Rida. Therefore, we were all classmates with Ke$ha herself.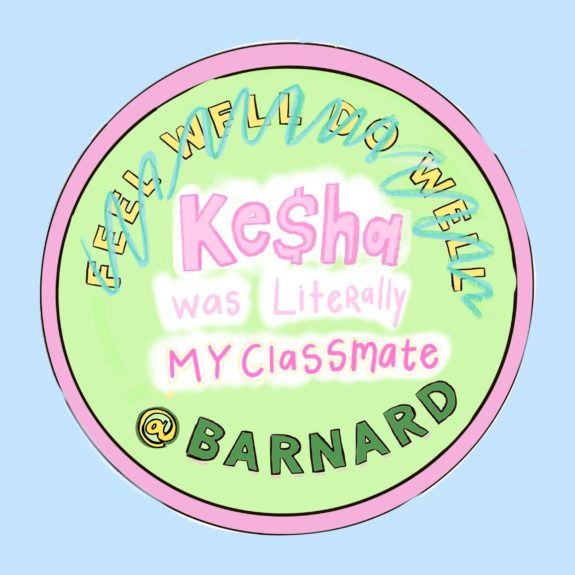 5. "Do Well, Nalgene Water Bottle @ Barnard"
In response to me asking her, "Why do you love Nalgenes so much?", my roommate mused: "So many clubs here give out stickers, and it turns the water bottle into, like, a story-telling vessel… They also cost ten dollars most of the time, so if I drop it or something happens to it, it's less of a financial commitment. I had a Hydro Flask that was 32 ounces (the size of my Nalgene) and it was so expensive and rusted in six months. And then any smaller size Hydro isn't enough water. Nalgenes are also dishwasher safe, which is big for me."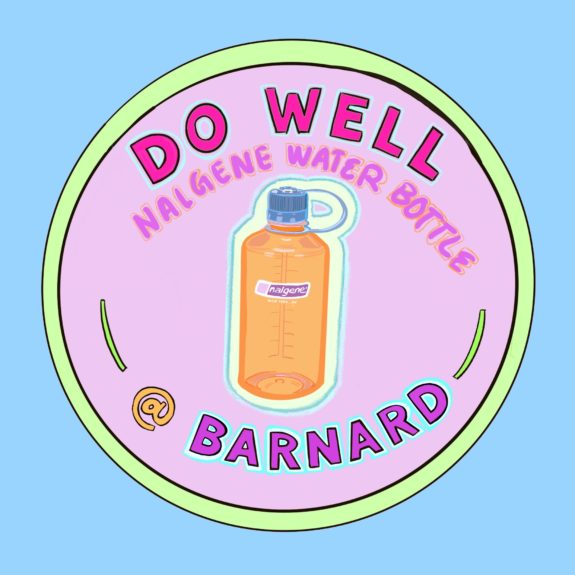 6. "Feel Well, Be Queer @ Barnard"
This. This is it. No further explanation needed :)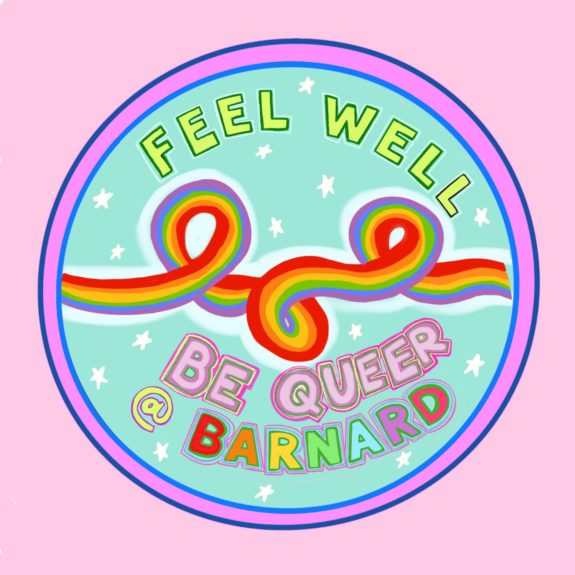 7. "Feel Well, Avoid Dairy @ Barnard"
In short, Dairy has no place at this institution. Ask the majority of Barnard's student body, and this is an overwhelmingly shared opinion. Latte? Lavender. Hot or iced? Iced. Milk? You should know…. Oat, obviously.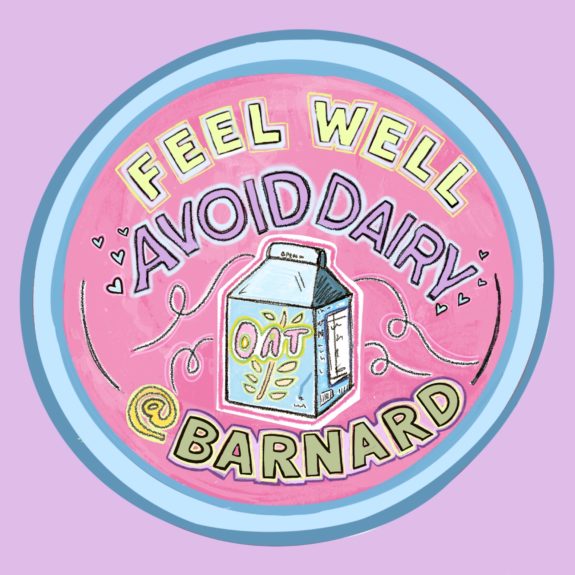 ** If you would like one of these stickers printed for YOUR laptop, reach out to me and I would be happy to make you one! Let's start a little sticker community :)
All Art by Ava Morouse