Get some fresh air and get those papers finished!
Bwogline: On Tuesday night, thousands of protestors gathered in Foley Square to protest a leaked Supreme Court draft opinion expressing a majority desire to overturn landmark court case Roe v. Wade. Many of the protestors wore green, a color symbolic of the reproductive justice movement in Argentina. Notable figures at the Foley Square protest included New York Attorney General Letitia James. (Gothamist)
Study Tip: FRESH AIR! Your brain quite literally needs oxygen to function, and that stuffy, poorly-ventilated dorm room is NOT doing you any favors. Open your window. Even better: take a five minute walk outside every 45 minutes or so. If your brain feels soupy after a fairly minimal amount of work, there probably isn't enough oxygen in your air supply. 
Music of the Day: My pre-exam ritual is listening to "Upside Down" by Jack Johnson, and it's never failed me. It's a great study song, too—a perfect combination of nostalgia, acoustic sound, and weird tinges of sadness. Try it!
Procrastination Tip: Start watching Survivor. Don't stop. 
Overseen/Overheard: This. I'm still not sure if it's a stress coma-induced hallucination. If anyone wants to go look and let me know I haven't gone completely bonkers, it's in (above?) the Schermerhorn/Avery/St. Paul's/Fayerweather rectangle.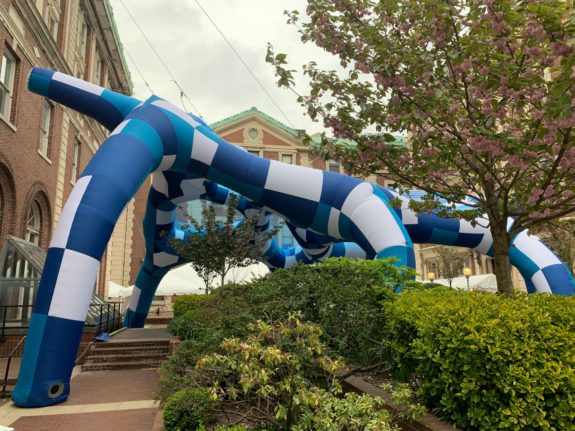 Foley Square protest via Wikimedia Commons