On Tuesday, Barnard Builds announced the removal of an oak tree on the Barnard Campus and the removal of the tent on Futter Field.
The Barnard community received an email Tuesday morning from Barnard Builds outlining two planned construction activities on campus: the uprooting of an oak tree and disassembly of tents sitting on Futter Field. The full text of the email can be found below.
Following years of observation, Barnard Builds declared that the oak tree near the Barnard Main Gate was found to no longer be stable enough for its presence to be safe for campus traversers. Bwoggers observed the tree surrounded with caution tape following a storm on October 14th.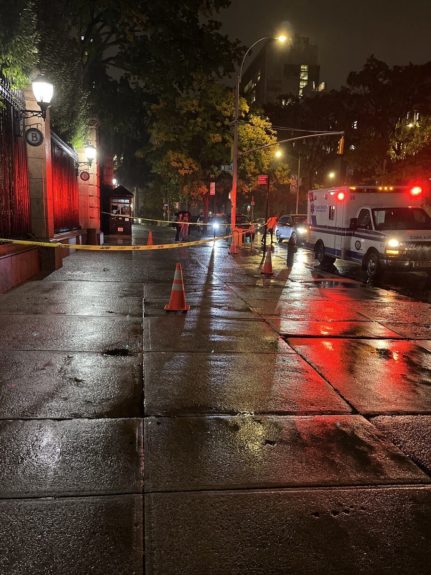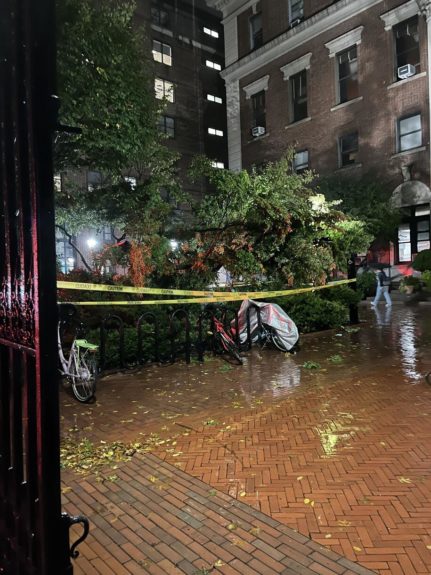 Barnard Builds informed students that the uprooting will take place on Wednesday, November 23 and will potentially cause delays when entering through the Barnard Main Gate; they requested the community use the Quad Reid Hall stairs or entrances on 119th street to enter and exit campus.
Barnard Builds also announced the removal of the tents on Futter Field, pitched on March 1, 2021. The tent will be taken down in late December. A period of lawn inaccessibility will follow in the Spring, until the field is seeded and sodded. In the email, Barnard Builds expressed gratitude towards the Futter tent for its service to the community during the COVID-19 pandemic. They also reminded the community that temporary tents will reappear in May and June for Commencement and alumni reunions.
Email sent to the Barnard community on Tuesday, November 22 at 10:27 am:
Dear Barnard community,
In addition to keeping you updated on construction activities, Barnard Builds will also inform you of other operations' activities on campus that you may see. This Wednesday, we will be taking down the large oak tree at the front of campus. We have been monitoring the health of the tree over the past few years, and unfortunately, it has become unstable to the point where it is no longer safe to remain on campus. On Wednesday, please use the Quad Reid Hall stairs or the W. 119th St entrances, to avoid potential delay using the Barnard Main Gate. This spring we will add some beautiful landscaping in that area of campus.
We are excited to let you know that we will be recapturing Futter Field for our community when we take down the tents in late December. It will still be a few months before the lawn is accessible since we'll have to wait until the spring to reseed and add sod. While the tents have served us well during COVID-19, it will be great to have the lush green grass back. We will be putting up a tent for Commencement and Reunion for a few weeks in May and June as we did prior to COVID. Please email barnardbuilds@barnard.edu if you have questions. Thanks and have a great Thanksgiving.
Futter Field Tent via Bwarchives
Oak Tree Front Gate View via Bwogger
Oak Tree Behind Gate View via Bwogger