On Thursday, November 3, Vice President Kamala Harris, Hillary Clinton, Chuck Schumer, and several New York state legislators spoke at a Get Out the Vote rally at Barnard College in support of New York Governor Kathy Hochul's re-election campaign. The event, hosted by the Columbia Democrats, took place in Barnard's Diana Center Event Oval, which was packed with student attendees from Barnard and Columbia as well as volunteers on Hochul's campaign.
If you were anywhere on Barnard's campus on Thursday afternoon, you saw Secret Service agents, helicopters, and the two-hour line for CU Democrats' much-publicized Get Out the Vote rally, featuring Kamala Harris and Hillary Clinton, among many other high-profile guest speakers. After an introduction from Columbia Democrats board members and event organizers Hanna Bloomquist (Barnard '25) and Catherine Sawoski (Barnard '24), the completely sold-out rally began inside the Diana Center, where nine New York state legislators and political leaders urged the student audience to help re-elect Kathy Hochul as Governor of New York.
First on the stage was Congresswoman Nydia Velázquez, Representative of New York's 7th District and the first Puerto Rican woman to serve in the United States Congress. Velázquez introduced the rally and the slate of exceptional speakers before describing her own journey moving to the US from Puerto Rico and working in the US government, especially her efforts to expand access to healthcare for minorities.

Next, Representative Andrea Stewart-Cousins, the first woman Majority Leader of the New York State Senate, emphasized the importance of the number of women onstage at Thursday's rally. Up until 2019, she pointed out, the offices of the New York state Governor, Speaker, and Majority Leader were all occupied by men, a bias that has only recently started to shift in the state Senate. "How we got here matters," Stewart-Cousins said, and "the shoulders that we stand on that have worked so hard to get us to this place cannot be taken for granted." It is thanks to these "history-makers/code-breakers," like the women onstage with her at the rally, that the movement for women's rights continues to move forward (despite discrimination, legal pushback, and Supreme Court decisions), she said. Meanwhile, women in Congress are responsible for major steps forward in healthcare, reproductive justice, environmental advocacy, and many other issues affecting all people.
Adrienne Adams, the first Black Speaker of the New York City Council, also said that having "women in leadership has never been more important than it is right now," especially now that we're "in the home stretch for this critical election" that will determine whether or not Kathy Hochul is re-elected to the New York governorship. "Our leadership," Adams said, "is making a real difference as we pass laws and set priorities differently," and "we need a governor in Albany who works constructively with our citizens, local elected officials and communities," especially as we come out of the COVID-19 pandemic.

Next to speak was Senator Chuck Schumer (whom Letitia James described later on in the rally as one of the "men who get it"). Schumer, who entered the stage to roaring applause, praised Hochul as a leader who "gets things done," which is especially important now that "Republicans are waging a war against women." Governor Hochul, he said, has already worked "tooth and nail" during the pandemic to deliver unprecedented federal funding to small businesses and save New Yorkers from losing their jobs and homes. "She will keep having your back," Schumer said, if she remains Governor of New York, and will advocate for rights for women and all marginalized people.
Following Schumer, Congresswoman Carolyn Maloney, of New York's 12th District, took to the stage to explain her issues with Hochul's opponent, Republican Congressman Lee Zeldin, who has voted against New York's Paycheck Fairness Act, the Right to Contraception Act, and 2022's Ensuring Access to Abortion Act. Governor Hochul, on the other hand, is a "big fighter" for her beliefs and a "longtime champion of women's rights, men's rights, and the environment, [and] healthcare," and voters' decisions on election day will be a "monumentally important choice" between two extremes.
The next speaker, New York Attorney General Letitia "Tish" James, emphasized the role of young people in democracy and the value of young voters. She and the other speakers, she said, "are here today" speaking at Barnard "because there's nothing more inspiring, nothing more impactful, nothing more powerful, than young people who are committed to change." According to James, people of all ages must vote in this week's election because we must "defend our democracy," since "the pride of knowing that we live in a state that values standing up for our working people and our women is invaluable."

The audience certainly demonstrated their pride with their enthusiastically warm reception of the next speaker, Hillary Rodham Clinton. Clinton added her voice to those of all the previous speakers when she urged the crowd at the rally to turn out and vote on Election Day, since "this election on Tuesday is one that will have far-ranging consequences." To the students in the audience, she said, "I think we know that that's why we're here…that I am going to ask you to get out after today's rally and literally get everybody you know to turn out and vote, vote early, vote on Tuesday," since "every issue that I can think of, that I imagine you could care about, is on the ballot." The New York gubernatorial race, she said, is not just a choice between two candidates but a choice "between two very different ideas about who we are as a state and a country," and Hochul is Clinton's own personal choice for a New York governor who will fight for women's rights, civil rights, LQBTQ+ rights, and more.
Clinton mentioned the significance of Hochuls' running for governor in New York, since New York is the state where "women's suffrage was born" with the 1848 Seneca Falls Convention. Hochul, Clinton said, has already proven her love for the state of New York by creating jobs when she worked to move manufacturing plants into the state and fighting for Social Security and Medicare for New York residents.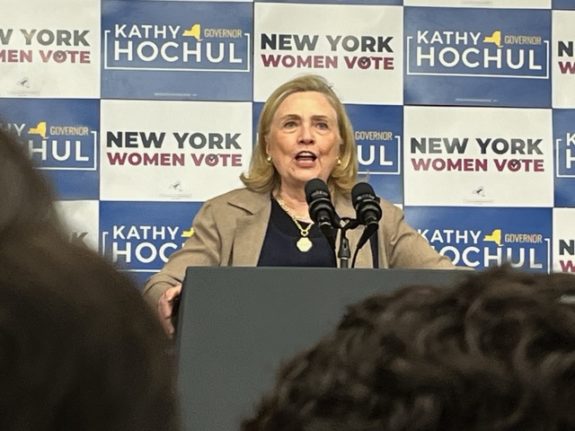 Kathy Hochul herself joined Clinton onstage soon after, and, like Clinton, cited the Seneca Falls Convention as a source of inspiration for her own political activism. "The legacy we've inherited," Hochul said, "is what is on our shoulders as the women of today," since "those women back then were so brave that they went against the tide of their time." This determination, she said, is alive and well in the young generation, and young people in turn have to "honor those women of the past, and those who shed blood to secure the right to vote" and say that we will "protect people's rights and abortion in this state right here, right now, and forever."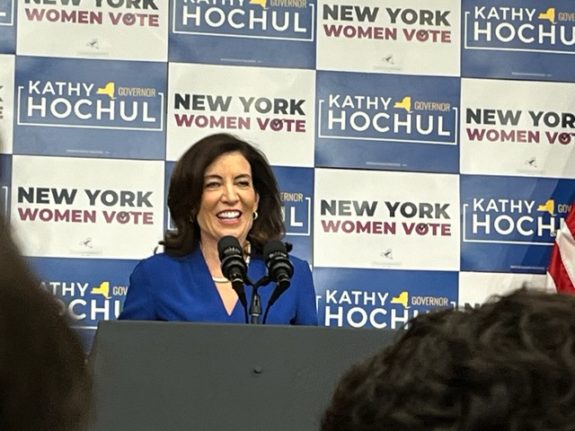 The rally ended with a speech from Kamala Harris, who flew in from D.C. to attend, and who received a standing ovation that went on for a good few minutes. Like Clinton, Harris stressed the timeliness of the rally, and reminded the audience that "we don't have a lot of time to do something very big, which is to elect Kathy Hochul." Hochul, Harris said, "has shown you what she cares about" and "how hard she will work for the people of New York," and all that remains is for New Yorkers to make sure that they vote on or before Tuesday. Voting, she emphasized, allows legislators like her and Hochul to pass important laws to end child poverty, improve gun control, and contribute to healthcare—such as the bill that capped insulin costs at $35 per month for Medicare earlier in 2022. Voting, according to Harris, lets people "put in an order" for what they want to see from their government, and New Yorkers who care about protecting human rights should put in the order to re-elect Hochul as Governor.

Outside after the rally, a small group of pro-Zeldin protestors carrying flags and signs stood across the street from Barnard, surrounded by news vans and policemen. Meanwhile, the Columbia student group Student-Worker Solidarity (SWS) used social media to advertise a protest at 4:45 pm against "CU Dems' elitist and inaccessible 'Get Out the Vote' event at Barnard featuring Kamala Harris and Hillary Clinton, and the mass incarceration, war-mongering, and displacement that these politicians stand for," according to a story on their Instagram account. The protest happened as scheduled with a small group of students holding signs outside of the Diana Center. Neither protest caused any changes to the rally itself inside the Diana Center.

"All throughout history, it's always been young people moving us forward," said Letitia James in her speech. "We've gained so much of the Democratic leadership that we can't turn back…and let the other side win and face regrets about what we could and should have done. We must march forward, my friends, and we must stand with the great Governor Kathy Hochul as we once again prove that if you need a great job done, you give it to a woman!"
Many Bwog Staff Writers contributed to this article, including Tara Terranova who transcribed the speeches, and Sophie Askanase, Sophie Conrad, Meeral Tashfeen, and Libby Walker, who took photos.
Photo of line outside the Diana Center via Sophie Conrad
Photo of SWS protestors outside Diana via Meeral Tashfeen
Screenshot of SWS Instagram story via Sophie Askanase
All other photos via Ava Slocum