On Friday, January 27 Barnard Zine club alum and graphic designer Suze Myers led a workshop on applying key facets of graphic design to zine creation.
The Barnard Zine Library is a small enclave on Milstein's second floor, known by many but often seemingly becoming just another study spot. Filled with the exuberant passion of Suze Myers during her "Graphic Design is My Passion" workshop, I watched it transform into a phantasmagoric nucleus, fit with all the tools necessary to make the imagined tangible and connect zine history with zine future.
Upon entering the space, each chair filled with a wide-eyed student and the customary zine club Oreos free for all on the table, I was immediately struck by how Myers bantered with the library staff like old friends, and as the session continued, I would learn that was because, indeed, they were: Myers was among the first Barnard Zine club members.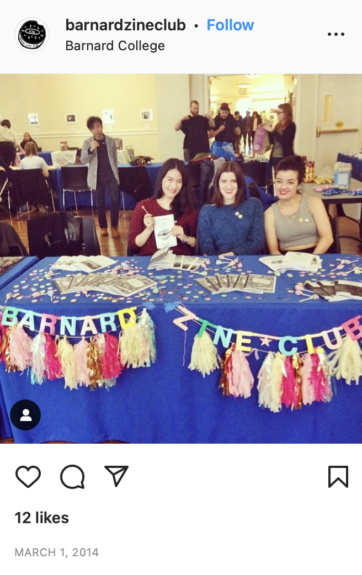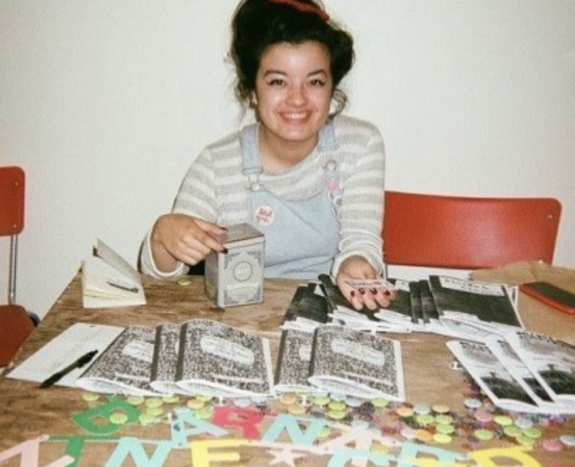 During her time at Barnard, Myers ran the Zine club, designed promotional materials (pins, posters, stickers, social media) for the library, including her semi-campus-famous Lisa Simpson in Barnard merch sticker, and began managing the library Instagram—which she continues to do to this day. She also took on extra responsibilities working in the Zine Library archiving old zines and creating new ones. She then moved to the United Kingdom to attend graduate school for design at the University of the Arts London where she studied visual communication. She then returned to the U.S. where she now works as a freelance graphic designer and art director.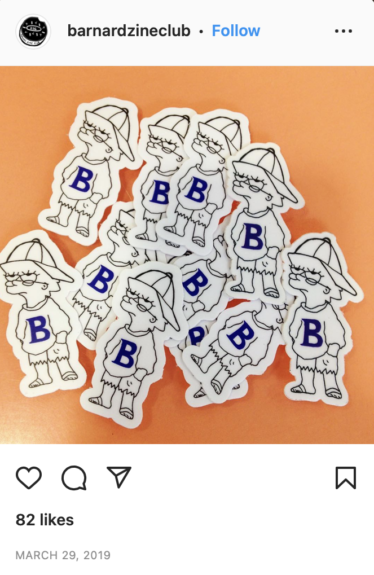 Myers began the event by presenting an elegant PowerPoint (as one would expect from a graphic designer) on the key elements of design. She first discussed something that often, for many, is only thought about briefly, perhaps upon opening a Google Doc—typography. She broke down the basic font types—serif (like Times New Roman), sans-serif (like Arial), and display/decorative (like Stencil or Script), explaining how the extra marks on the edges of serif letters trace back to marks created by chisels upon striking stone, how sans-serif fonts to are more accessible for the visually impaired and people with learning differences, and how display fonts often sacrifice readability for aesthetic.
Myers then moved to discuss the importance of layout, or how the text and images of a zine are organized. She explained the importance of contrast, grouping, space utilization, and emphasis, providing example images of posters with headers, sub-headers, and by-lines that use layout in different ways to communicate important information. When might one emphasize a sub-header over a header? Why? How might different placements attract/present themselves to viewers?
During this discussion, Myers passed out zines from her personal collections to refer to during her presentation segment on color/illustration/printing. She talked about exploring different methods like hand-printing, hand-drawing/painting, and collage, introducing us to Risograph printing. Created in Japan in the 1980s, the printing technology is now favored by artists and Zine authors because of its vibrant colors (think of pop-out neon pink), accuracy, similarity to screen printing, textures, personal freedom (each piece is unique to its creator—no two risograph prints are the same), and affordability of mass reproductions using the printer. We were encouraged to notice what we liked and didn't like about the zines, which color palettes appealed to us (we were advised to go by gut until we had a chance to get a greater understanding of color theory and color pairings), what styles we enjoyed, what type of content stood out, etc.
The creative portion of the workshop was heralded by Myers and zine library staff bringing in dozens of old yearbooks, magazines, pieces of art, comic books, and stickers which we could use to craft our own zine. Myers encouraged us to first partake in an exercise ordering a header, subheader, and by-line on a zine, before providing us with prompts to follow if we needed inspiration. I chose to follow one of her prompts, making a confessional zine that hopefully will inspire all of our lovely readers to submit tips to bwog!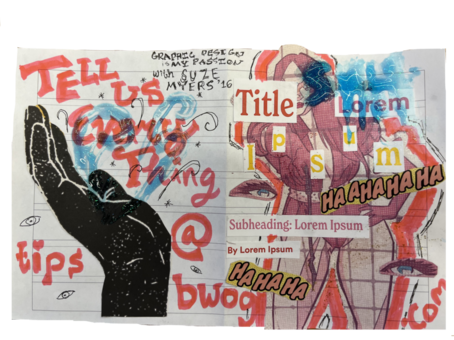 As we crafted, we were regaled with stories of Myers' intrepid tenure working at the library: riding in library carts with friends and posting photos of it on Instagram, fit checks and Gilmore Girls memes, and exasperating the administration who were worried that she thought she could do whatever she wanted after she posted something along the lines of 'I can do whatever I want' on the library's Instagram.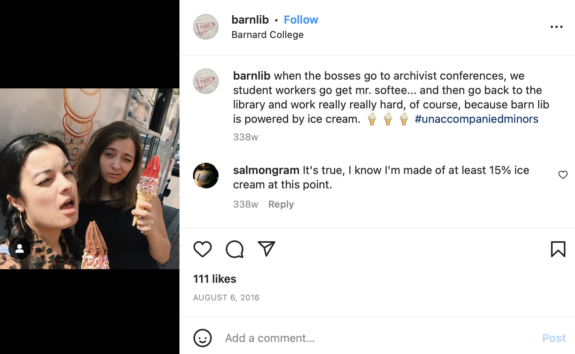 I left the workshop with an adorable zine and a nagging sense that I wouldn't be able to resist the magnetic pull of the cozy zine library and would be back crafting again soon.
Go here for more information about the zine library and future events.
Bwog Zine And Event Poster via Author.
Myers Zine Club Event via barnardzineclub on Instagram.
Myers With Zines via barnlib on Instagram.
Lisa Simpson Stickers via barnardzineclub on Instagram.
My Zine via Author.
Myers Working via barnlib on Instagram.