Daily Editor Phoebe Mulder heard rumors of a magical room full of trinkets, bird heads, and general wonder. She had to see it with her own eyes.
I love a good trinket. Bookends! Crystals! Tiny wooden boxes perfectly sized to fit three buttons or perhaps two paper clips! An airport gift shop is basically my nirvana. Florida-themed shot glasses? Magnets in the shape of Massachusetts? Sign me up. I love trinkets because of their aesthetic value (my friend Isa's frog mug, for example, is a work of art) but mostly because they're vessels of memory and history. A trinket is like a little locus of sentimentality. What's not to love?
When I heard Julia had a dead bird head (it's preserved, don't worry) in her dorm room, I knew that I had found a fellow trinket lover and a serious trinket collector. So a few nights ago, I knocked on her door, curious about her other trinkets and the stories they held. When I walked in, I immediately realized I had entered trinket heaven, complete with rocks on the windowsill, ticket stubs on the wall, and vintage postcards propped on desk shelves. Julia's room was like a living, breathing museum of her life. I had questions about basically everything. Luckily, she had answers.
The first thing Julia showed me was the iconic bird head. I don't really know what I was imagining, but it certainly wasn't anything so delicate. The bird head sits on her cluttered windowsill, inconspicuous among her piles of rocks and crystals.
A bird flew in her window, she explained, and died in her backyard. Rather than bury it, she decided to preserve the bird's body in Borax. A few months later, when it had sufficiently dried out, she made a bird-wing necklace for her friend and kept the head for herself. I wondered if the bird-wing necklace was durable enough actually wear. It wasn't, she conceded—the friend hung the wings on his dorm wall instead. Now, they're reminded of each other when they see the bird. It's a beautiful example of Julia's ability to see artistry and opportunity in everyday or unexpected things.
Another moment of artistry—Julia's champagne cap chairs. Her cousins taught her to wrap wire around bottle caps, making little sets of tables and chairs. "You can get pretty fancy with it," she said, "We used to make Minnie and Micky Mouse-themed chairs." The tiny chair looks fit for a fairy or, fittingly, a mouse, resting sedately among old pins and abandoned art projects on her desk.
There are about a thousand more things I want to see, so I ask Julia if she has a favorite gifted trinket. Gifted trinkets are my favorite kinds of trinkets. My friend Aidan once gave me a ceramic pumpkin that looks like a tomato and weighs five pounds. He's a very talented ceramicist, and he was surprised that the pumpkin, which was made as a half-joke, survived the kiln. I love her. She is my dense, lumpy Madonna.
Julia's favorite gifted trinket was also given to her by a friend. She shows me a broken piece of a plate, decorated with green flowers. Her friend found this plate in a river while visiting France. "She brought it back for me," Julia says. "We only had a little time to see each other before we went to college, so she gave it to me as a going-away gift." This speaks to one of the cardinal rules of trinketing: nothing is ever trash.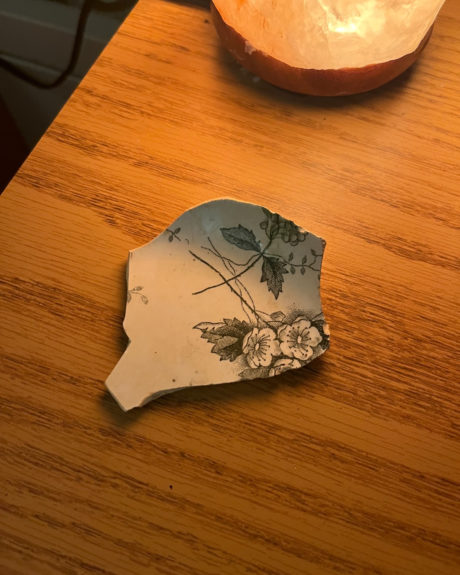 I ask Julia if she has an all-around favorite trinket. She looks around the room, pondering. It's a hard question! She settles on a small painted rock. It's from her mom, she says. It was a Christmas present. I ask if her mom painted it. Nope. She probably found it on the side of the road or in a thrift shop and just assumed Julia would like it. It doesn't really matter, at the end of the day, who decided to paint a charming, brightly-colored flower on the rock–it's almost better that it wasn't Julia's mom. It's got a sense of lineage and history, however small. Come on! This is the kind of stuff that makes me a sucker for a good trinket!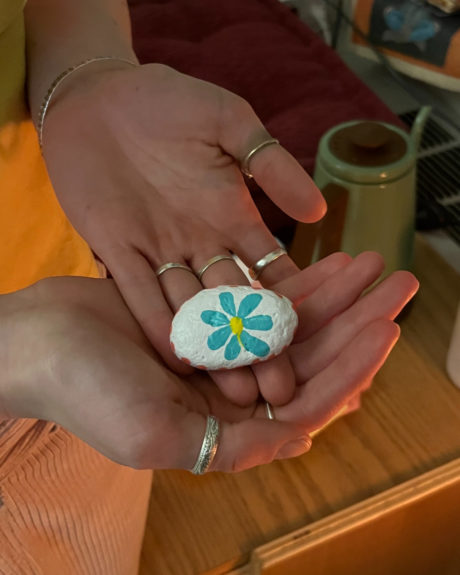 My favorite trinket in the room? A pair of porcelain doll legs. The pair rests in front of a Batman postcard on her desk. If anything in this room were to come alive in Toy Story style, it would be these legs. In a pinch, they could be creepy candle sticks. How did Julia acquire just the doll legs? Her mom collects vintage doll pieces and gave Julia this pair to take to college.
Another item that would be sentient if this was a magical realist short story: Julia's tea-steeper soldier-man. He has his own ladder and everything. Fill his body with loose-leaf tea, set him inside a mug, and watch him come to life. He looks like a little gentleman with a posh, clipped British accent. I imagine he adds a wonderful element of whimsey to any cup of tea.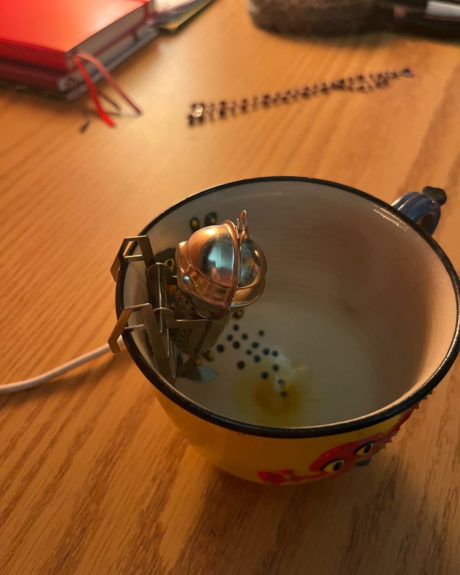 Finally, I ask Julia if she has a trinket that contains a particularly heavy or meaningful history. She points out a small fabric coin purse. I soon realize, of course, that it's much more than just a purse. Inside is a set of nested silver cylinders. They unfold to create a shot glass. It's an heirloom from her family in Norway, Julia shares. It's been in their family for generations. Her dad gave her the shot glass as a high school graduation gift, as per family tradition. It's a stunning piece of craftsmanship, complete with a familial engraving. It doesn't leak, Julia is happy to report.
I could spend hours combing through the trinkets in Julia's room. There are vintage calendars, spell jars made by her friends, and plants in varying levels of health. I see pinecones, origami, and a delicate paper hummingbird hanging on a string above her bed. It's a cozy cacophony of noise and knick-knacks. I'm sure every trinket has its own story, its own significance. Collectively, they form a time capsule of Julia's life and a physical manifestation of her closest relationships. I know I said Julia's room felt like a museum, but the word museum almost feels too stagnant. Her collection is growing every day, constantly rearranged and repurposed. Whatever it is, it's amazing. This is trinketing at its finest.
All images via Author