In our attempts to come up with increasingly creative ways to procrastinate our final papers, Bwog has birthed a new medium: The art of Zoom chat blackout poetry. Take a page from our book and consider saving the text chat from your next Zoom call and making poetry out of it—if it's from a class Zoom call, you can even pretend it's studying! Bwog tried it for you with our meeting notes from this Sunday. Yes, these words were all in that chat, no, we will not be offering an explanation. and yes, we definitely made this ten times deeper than it had to be.
Without further ado, Bwog presents: "The cockacroach will live forever." (sic.)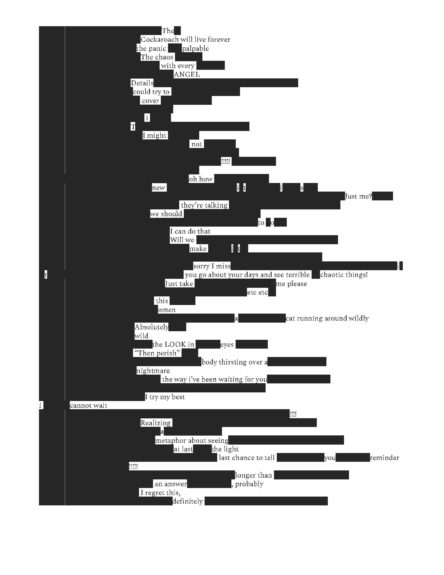 This was pretentious enough, but we decided to format it into an actual poem too because we hate ourselves. :-)
The Cockaroach will live forever
The cockaroach will live forever.
The panic palpable,
The chaos with every ANGEL.
Details could try to cover it—
I might not!!!!!
Oh, how new it is…
Just me?
They're talking;
We should too.
I can do that.
Will we make it?
Sorry, I miss it.
You go about your days and see terrible, chaotic things!
Just take me, please.
(etc. etc.)
This omen:
A cat running around wildly
Absolutely wild
The LOOK in eyes—
"Then perish."
Body thirsting over a nightmare
The way I've been waiting for you
I try my best.
(I cannot wait!!!!)
Realizing a metaphor about seeing, at last, the light.
Last chance to tell you: reminder!!!!!
Longer than an answer, probably
I regret this, definitely.
Why did I try so hard on this? via Bwog Staff