Laundry and Dining and Quad Life, oh my!
This dorm, on the Barnard quad and with mostly singles, is a nice option for upperclassmen who want to stay near campus. If you are a sophomore who wants a good chance at a single, this is also a great option for you.
Location: Barnard Quad (3009 Broadway)
Nearby Dorms: Sulz, Sulz Tower, the 600s, Brooks, and Reid.
Nearby Amenities: Starbucks, Morton Williams, Lululemon, Shake Shack, all the Broadway classics
Cost: $5,413 per semester
Bathrooms: One large communal and one gender-inclusive bathroom per floor. The showers have a history of inconsistency so find your favorite. A few of the rooms share a semi-private bathroom for those of you with good lottery numbers
Accessibility: Floors 1-7 are wheelchair accessible through some entrances, 8th floor is not
Temperature: No AC, but there is heat!
Wifi: Barnard secure
Kitchen: Shared with the rest of the quad on your respective floor
Dining: Hewitt Dining Hall is just below the dorms!
Laundry: On each floor of a connected building (Sulzberger Hall)
Bwog Recommends:
If you need a single and have a bad number, Hewitt is there. Also, if you loved Quad life in your first year and want to stay there, Hewitt is there. Not super special or fancy, but it is consistent and standard.
Resident opinions:
"I loved Hewitt. It's the homiest dorm I've ever lived in. There's a certain Hewit scent™ that made me feel at home as soon as I turned the corner in from Sulz."
"The views of Claremont onto the river are amazing, especially at sunset."
"The only downside to Hewitt are the showers. I'd recommend showering in Sulz or Brooks, but that's nowhere near a deal breaker for this dorm. Sulz showers slap."
"I would say that it's a very typical dorm room look. it's almost all singles and you can hear your next-door neighbor quite clearly. This year is nice because there are only 5 girls on the whole floor so it's generally quiet and the girls are nice. If you are on the Claremont side the wind tunnel is LOUD. As a light sleeper I am not a fan. This year I had/have a mouse problem and it was mortifying. It was crawling in my stuff and I swear I couldn't sleep properly anymore because I'm scared I heard one. Overall it's not a terrible place to live but as an extrovert and someone who is terrified of mice, I am not a fan."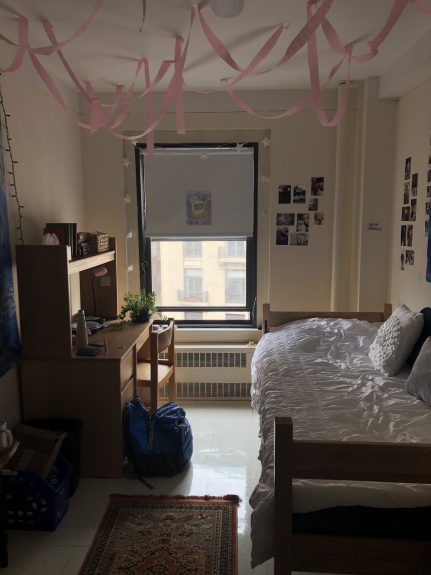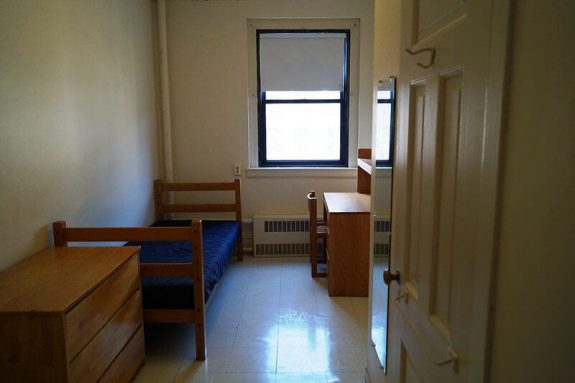 Hewitt collection via Bwog Archives