The options are fine, but you know, not great.
Barnard Edition:
This year's 6-person lottery saw only two all-senior groups enter the lottery, and with the surprise of Plimpton going earlier than in past years, some of the other cutoffs has been changed accordingly. Also, new suite styles were opened up, such as 4 singles, 1 double style suites in 616 and 620.
How do you interpret the cut-offs? It's Group Value/Lottery Number. So for example, 200/73 means that you are a group of all rising juniors with a lottery number of 73 overall.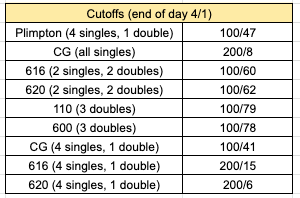 Differences between 2020 and 2021 Selection? For last year's numbers, you can find our 2020 housing coverage here. The biggest difference (as mentioned previously) is that Plimpton went much quicker than it did last year. That meant that 600 and 110 all doubles suites went last, while in previous years Plimpton and 600 had been more interspersed. This Bwogger's interpretation is that fewer groups wanted to be in doubles, so if they had the chance to have more singles, they took it. Also, first-years were placed into the 600s for Spring 2021 housing, so they may have wanted a change in scenery that Plimpton provides.
Looking Forward: The deadline for the formation of groups of two and three for the 123 lottery is Monday (April 5) at 10 am EST. The lottery will begin on Tuesday, starting with all senior groups and concluding with all sophomore groups. Unlike the 4, 5, and 6-person lotteries, the 123 will run over the course of six days. It runs from April 6th to 9th and April 12th to 13th. In the 123 lottery, 243 singles and 103 doubles are available. However say goodbye to the 110 triple, since it will not be up for selection. Based on Bwog's records, here were the cutoffs from the 2020 123 lottery. However—there have been various changes in trends this year, so take the information for what you will. Also, some of these options may not be available in the 2021 selection so be sure to check the Available Rooms spreadsheet for more information.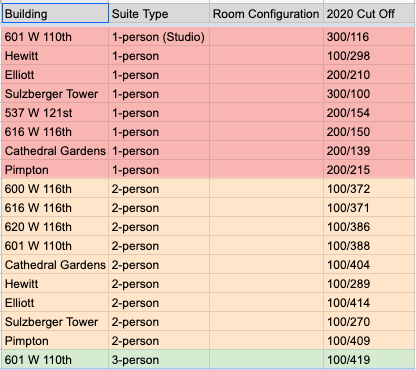 If there are no remaining dorms at your selection time for the 123 or you choose not to pick—you will be placed onto the Guaranteed List. This means that you will have housing, however, you will not be able to pick it. Students get moved off the list as people cancel their housing. If it is similar to previous years, you will be able to rank where you would like to live and are placed into assignments based on that ranking. While it's not great; it usually works out in the end and you will have housing.
Columbia Edition:
What's Gone:
5-person suites in 47 Claremont
5-person suites in EC
6-person suites in Ruggles
Corridor doubles in EC
What's Scarce:
4 corridor doubles in Harmony
1 studio double in Watt
2 6-person suites in Plimpton
4 8-person suites in Ruggles
What's Still Left:
9 7-person suites in 47 Claremont
40 singles in Furnald
28 singles in Harmony
8 singles in McBain
46 singles in Schapiro
33 singles in Wien
55 corridor doubles in Nuss
35 corridor doubles in Broadway
33 corridor doubles in Carlton Arms
176 corridor doubles in McBain
84 corridor doubles in Schapiro
35 corridor doubles in Wien
Looking Ahead: Columbia's housing lottery will resume on Monday (April 5) at 9:15 am with the last mixed junior-sophomore groups. Then, all rising sophomores will begin selection. Unless you have a 7 or 8-person group—all other groups hoping for a suite will have to split up. There are still a fair amount of singles left, in addition to many many corridor doubles. Singles and larger doubles will most likely go first while the housing lottery continues.
oooh 600 via Bwarchives