Pumpkin season is upon us! Let your dorm kitchen bask in cinnamon and cloves with this delectable pumpkin muffin recipe—and reminisce on your Halloweekend memories while doing it!
In the spirit of fall, Daily Editors Claire and Meeral embarked on a mission this weekend to make some delicious pumpkin muffins, adapted from a recipe on Sally's Baking Addiction. Their challenge? Doing so in a dorm with limited supplies without burning the suite kitchen down. Here's how it went:
First, ingredients were procured! For this recipe (which makes 12 muffins), you'll need the following:
1 ¾ cups all-purpose flour
1 teaspoon baking soda
2 teaspoons ground cinnamon
¼ teaspoon ground ginger
½ teaspoon salt
½ cup avocado oil (or vegetable oil)
½ cup granulated sugar
⅓ cup brown sugar
1 can Libby's pumpkin purée

A true classic in all pumpkin-related dishes! You can never go wrong with Libby's delectable pumpkin essence.

2 eggs
¼ cup milk
1 bag of chocolate chips (approx. 1 cup and then some… season to your desire for added deliciousness)
Once ingredients were gathered, we proceeded with our muffin-making endeavors using the following steps:
Preheat your oven to 425 degrees Fahrenheit. (If, like us, you are amateur bakers, you too will desperately require a YouTube tutorial on how to preheat an electric oven. We promise, we're not judging you.)
Next, in a large bowl, whisk together your flour, baking soda, cinnamon, ginger, and salt until well combined.
In a medium bowl, combine your oil, sugars, pumpkin puree, eggs, and milk. Pour your wet ingredients into your dry ingredients bowl and fold everything together. Don't overmix! Stop when you no longer have any flour pockets in your mixture. Now for the best part: mix in your chocolate chips!
Line your muffin tin with cupcake liners and spoon the batter in, making sure to fill them until they reach the top. If you haven't eaten up all your leftover chocolate chips (oops), decorate your filled liners with the remnants from your bag.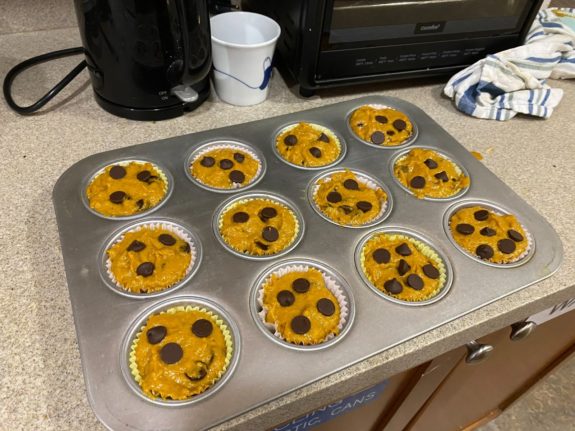 Place your tin in the oven at 425 degrees Fahrenheit for five minutes, and then reduce the oven temperature to 350 and continue baking for an additional 17 to 20 minutes. Each oven's temperature is different, so be sure to test your muffins by inserting a toothpick and making sure the center comes out clean before fully taking them out to cool.
When your muffins are done, take them out and allow them to rest for up to 15 minutes in the pan before enjoying. Eat them all while warm, share with your suitemates, or store in a Ziploc at room temperature for up to one week.
Our lovely muffin baking endeavors via Claire and Meeral's phones