You miss Ferris oatmeal, even though it was objectively bad. To satiate your hunger for a hearty breakfast, try one of these four recipes depending on which college you attend.
SEAS' All-Nighter Overnight Oats
1/3 cup old-fashioned oats
1/3 cup vanilla almond milk yogurt (or any yogurt)
2/3 cup vanilla almond milk (or any milk)
a splish-splash of vanilla
a splish-splash of maple syrup
a smaller splish-splash of lemon juice
a hefty spoonful of chia seeds
two small handfuls of blueberries
and a thinly sliced banana-half
Mix up all the ingredients in some form of a container (or, yes, a mason jar, which will provide you with the classic Overnight Oat Experience), put the lid on top, and let your breakfast-in-progress sit in the fridge overnight. Although they're all measured in 1/3rds of a cup, the key to this recipe is the 1:1:2 ratio of oats to yogurt to milk. That make sense? Yeah, I thought so, SEAS kid. And sorry-not-sorry if it's tough for you to precisely measure a splish-splash or hefty spoonful of the other ingredients.
When dawn finally breaks after a long, sleepless night of studying intelligent, mathematical things, you'll have an irresistible breakfast treat awaiting you. It's like a reward.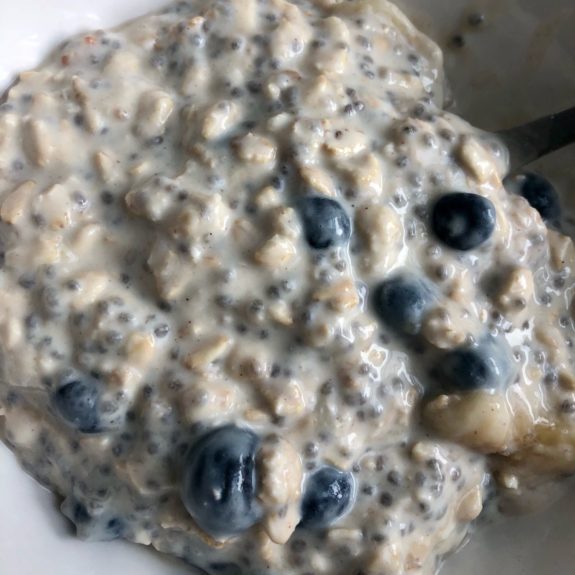 The School of General Studies' Spicy, Savory, Adults-Only Oatmeal
1 1/3 cup old-fashioned oats
1 cup chicken broth (or vegetable broth)
1 tbsp butter
an egg
a drizzle of olive oil
a handful of mushrooms (optional veggies include kale, onion, and shredded carrot)
garlic powder
salt & pepper
red chili flakes
sriracha
First, you're going to want to melt your butter in a pan over the stove, and when it's melted, toss in your old-fashioned oats. Toast 'em up over medium heat for about five minutes or until they smell like popcorn! Microwave your chicken broth for about a minute so it gets nice and warm, and then pour it into the pan with your oats. Turn the heat down to low, a gentle simmer, and cover for five minutes. During this time, chop up some veggies and toss 'em in another pan with a splash of olive oil and some salt and pepper. The more veggies, the better, you think, because you are an adult. Feel free to fry or poach your egg. When your oats are done, nice and thick and fluffy, scoop them into a bowl, and top with a drizzle of olive oil, your veggies and egg, garlic powder, red chili flakes, salt and pepper, and a healthy dose of sriracha.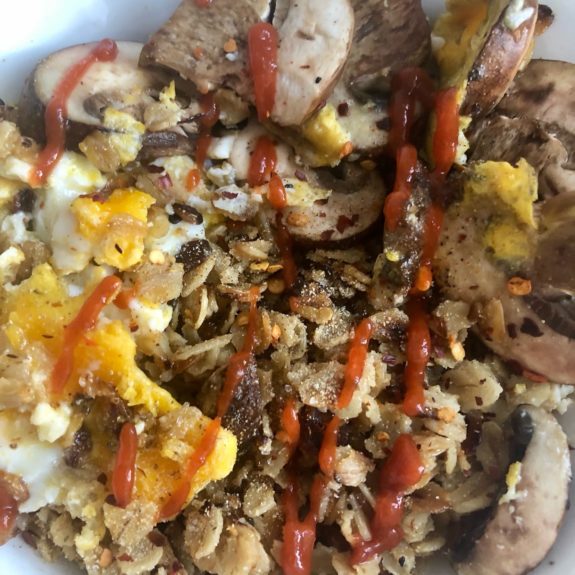 Millie the Bear's Stewed Maple Berry Oatmeal
1/2 cup of old-fashioned oats
1 cup of vanilla almond milk (or any milk)
a dash of salt
a handful of blueberries
a handful of blackberries
a good ol' splash of maple syrup
and a splash of water
some slivered almonds
a big ol' scoop of vanilla-cinnamon oat milk yogurt (or any yogurt)
a hefty ol' scoop of almond butter
a smaller pat of cow butter
In a small pot, boil your milk and salt, then mix in your oats and cook for about five minutes over medium heat. Don't forget to stir occasionally! In another small pot (or pan, I guess?), throw together your berries, your maple syrup, and your splash of water. Simmer, simmer, simmer! Ideally, it'll get all nice and warm and juicy. When your oats are done, scoop 'em into a bowl, then top with your stewed berries, almonds, yogurt, almond butter, and cow butter.
This breakfast is as sweet and comforting as your most wholesome Barnard friend, you know, the one with bangs? A superb fashion sense? Listens to Phoebe Bridgers? Yes, them, exactly!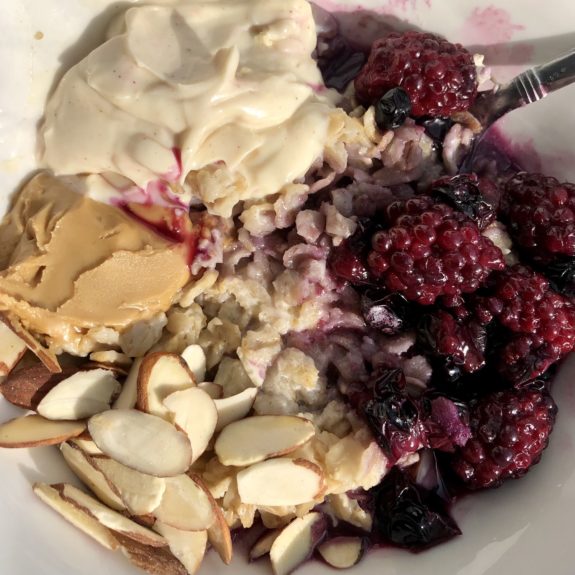 The CC Cocoa/Banana Combo
1/2 cup of old fashioned oats
1 cup of water
1 tbsp of cocoa powder
a swoosh of cinnamon
a sprinkle of chia seeds
a scoop of coconut yogurt (or any yogurt)
1 sliced banana
a big scoop of peanut butter, melted
some optional brown sugar or maple syrup
Boil your water in a small pot and stir in your oats, cocoa powder, and cinnamon. Cook over medium heat for five minutes, stirring intermittently. This is a good time to melt your peanut butter and slice your banana! You're good at multitasking; pretend you're back in LitHum, listening to whoever's speaking but thinking of what you're going to say next. Once you've scooped your oats into a bowl, top with chia seeds, yogurt, banana, and drizzle with peanut butter. If you're in the mood for something especially sweet, add an extra splash of maple syrup or spoonful of brown sugar!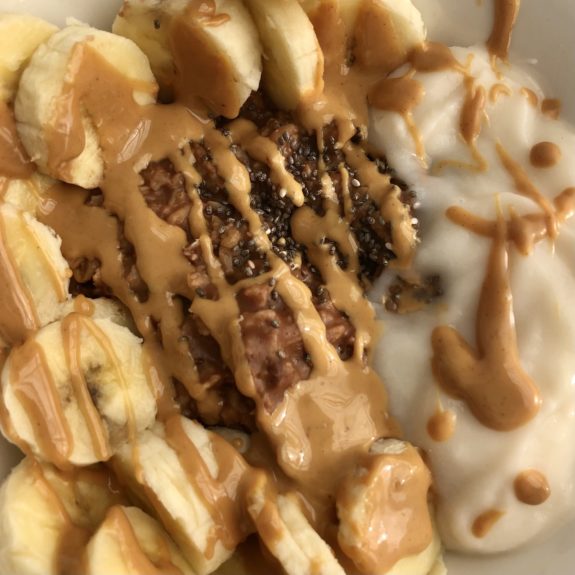 Photos via Bwog Staff