If you're a student in the joint program, this is the best (and only) on-campus housing option for you!
Goldsmith, commonly coined "Newsmith." is a brand new dorm for students in the Joint Program between Columbia and the Jewish Theological Seminary. JTS/Barnard students also can choose to live in the JTS dorms, but most reside in Barnard housing. Brand new but already full of character, "Newsmith" replaced the former JTS housing that now belongs to Barnard (now coined "Oldsmith"). For JTS Columbia students, it is the only non-specialty on-campus option, but guarantees all students housing.
Location: 122nd and Broadway
Nearby Dorms: Plimpton, 121st
Stores and Restaurants: Cafe au lait, Olive tree, Max Caffe, Appletree
Price: 6,800 per semester for a double (Spring 2021 housing rate)
Amenities:
Furniture: Each room contains a bed, a desk, a closet, drawers, a refrigerator and a microwave for each student.
Bathrooms: Each 2-3 dorms share a large single bathroom in the adjacent hallway with place to hang things and a large overhead shower
AC/Heating: contains both AC and heating controlled by the building
Kitchen: Each floor comes with either a hechsher or ingredient kosher kitchen stocked with utensils and basic appliances.
Lounge: Large lounges with comfortable chairs and tables, as well as a TV that can be connected to a laptop. There is also a school lounge just under the dorms
Laundry: There are new laundry machines on every floor and a rolling basket to help transport laundry
Computers/Printing: There are computers in the attached JTS building, and printers in the 5th floor lounge
Gym: There is no in-building gym, but Columbia gyms are accessible to JTS students
Flooring: the floor of all dorms are covered by hard mats
Wifi: JTS-Residential.
Dining: A kosher dining hall is in the attached main JTS building and operates under a separate meal plan than Columbia/Barnard.
Library: The JTS library is located directly under the dorms.
Security: 24/7 security with metal detectors at every entrance
Other: The JTS dorm is connected to the main JTS building, allowing students to travel between class and their dorms without leaving the building.
Housing Process: Because there is only one dorm, the JTS housing process operates differently. Students who elect to live in the dorm receive a housing number based on class standing and double/single preference (Fall 2021, all students are projected to be living in singles, so students can request to live in rooms next to friends). Students who are 21+ can choose to live on floors where alcohol is permitted.
Bwog Recommendation:
If you are a JTS student, JTS is a hub of communal life, with a time-honored tradition of Saturday meals and board games. The dorms are convenient to reaching your JTS classes while still being near the rest of Columbia life. The dorm is known for hosting a warm community, but the nature of the small program is definitely seen in the quirks throughout the building.
Student Opinions:
"The kitchens are absolutely glorious! I also think it's important to discuss the wallpaper (I.e. 7th floor is awesome but then one of the floors has a creature that looks like Kevin from Up)"
"The Newsmith Residence has its quirks but is one of the nicest (and only) Jewish-living college dorms on Broadway"
"More bathrooms than current residents"
"Community-centered dorm that in the Fall when COVID restrictions ease hopes to be a people-centered space."
"Whoever designed the dorms forgot wind exists. Even the slightest wind creates howling noises that can be heard throughout the halls and keeping the windows closed doesn't stop the wind's onslaught."
"The sense of community is amazing. There is no other place where you truly live and breathe the things you learn. Conversations don't stop in the classroom but are brought back to the dorms. Newsmith fosters a love of learning that could hardly be imagined."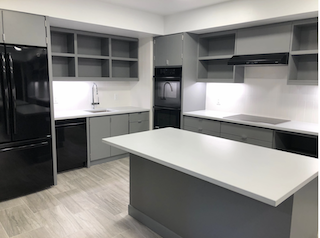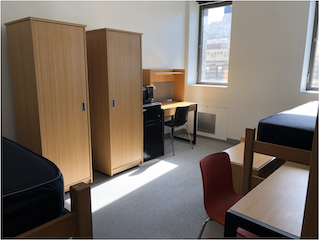 Images via Jtsa.edu and Shira Michaeli