Bwoggers James Perry, Panu Hejmadi, Obutor Ogonor, and Alice Rodi check out the jazz scene at local Ethiopian restaurant Massawa, where the Sarah Hanahan Trio appeared last Sunday to treat the restaurant to a lively night of music.
If you live in Plimpton or any of the dorms around 121st Street, you may have heard some stray trumpet solos or swinging drum beats floating up to your window every Sunday evening. These tunes, though, haven't just appeared out of the blue: they're coming from Massawa, the Ethiopian restaurant on the corner of 121st and Amsterdam.
Massawa proudly claims its position as one of the first Ethiopian restaurants in the United States, and if that didn't already make it special, it also proudly hosts live jazz performances from local musicians every Sunday. Last Sunday, a group of Bwoggers went to grab dinner and see the Sarah Hanahan trio perform, and we were left blown away—quite literally—by the lead saxophonist's tunes and our meals.
Up-and-coming saxophonist Sarah Hanahan is originally from Marlborough, Massachusetts but now resides in New York City as she pursues her Masters degree in Jazz at Juilliard. Bassist Jason Potter and drummer Michael Ode accompanied Hanahan, as well as pianist Luther S. Allison, who stepped in after the trio's first couple of songs.
The group began with a jazz classic by Charlie Parker called "Billie's Bounce." It was clear that the band impressed the crowd right off the bat, with beautiful runs, vibrant solos from each player, and sheer talent, not to mention Sarah Hanahan's superhuman breath support. As they played, the group filled the warmly-lit space with their energy, heads bobbing, eyes closed, and faces scrunched up with concentration. Hanahan's post-solo shouts and yelps, Potter's fluid motions up and down the fingerboard, Allison's feet dancing along the bottom of the piano, and Ode's rushing wrists put an emphasis on physicality, not just musicality for the night. After the third song, the host addressed us as a crowd: "I know you heard it, and you definitely felt it." With animated bodies, the performance cemented an atmosphere of general dynamism.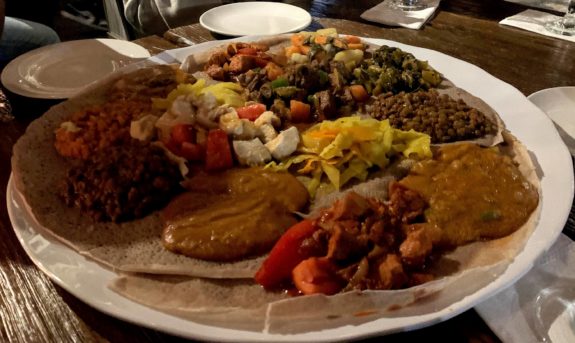 Aside from their incredible individual musicianship, we were impressed by how well the group worked together and how much fun they seemed to be having. Often Hanahan would look at Allison, Ode, or Potter mid-song and smile, cheering them on from behind her own instrument. It was infectious! As the performers exchanged knowing glances and giggles, their music let loose a frenzy of affection. Once the trio had begun, our table was smiling and nodding to the beat of the music, but so was every other patron of the restaurant. Even passersby were caught in the communal web, staying for a while to listen. Perhaps most telling was the marching in of music students—from the Manhattan School of Music to Julliard—who were welcomed to a jam session to show their skills alongside the band towards the end of the night. The trio brought so much joy into Massawa, from the performance to their warmth, versing a lyrical buzz of music and laughter.
Overall, it seemed that Massawa was the perfect place for this close group of musicians. In fact, we had ordered a single large platter at the beginning of the night, allowing us to share our meal with one another. Such an environment—one that fosters community and connection—lent itself well to the Sarah Hanahan Trio: they, too, seemed extremely tight knit, and their close dynamic was lovely to watch as they played throughout the night. It seemed as though through that passion, geniality, and openness, the night had become an invitation into the world's biggest friend group.
We're glad we accepted.
Images via James Perry