No yeast? No problem!
Do you ever sit in your dorm and think, "Man, I would love some homemade cinnamon rolls, but I don't want to deal with waiting for the yeast to rise!"? Look no further than this ridiculously easy, no-rise recipe! Don't miss out on this staple of the holiday season and take over your floor lounge for an hour or two with your roommate, lab partner, or RA! This recipe is primarily pulled from Sam Merritt on Sugar Spun Run, but I have added some ~annotations~.
Rolls
2 cups all-purpose flour (240g)
3 Tablespoons sugar (38g)
1 Tablespoon baking powder
1 teaspoon salt
5 Tablespoons cold unsalted butter, + additional 2 Tbsp butter for baking
¾ cup milk (178ml)
Filling
⅔ cup brown sugar (133g)
3 Tablespoons white sugar (38g)
2 teaspoons cinnamon
4 Tbsp butter melted
½ teaspoon vanilla extract
Icing
3 oz cream cheese softened (85g)
3 Tablespoon butter softened
1 teaspoon vanilla extract
1 ½ cups powdered sugar (190g)
1 Tablespoon milk (15ml)
Cooking Utensils
Oven
Pastry cutter/Fork & Knife
Several large mixing bowls
Whisk
Counter space
Wax paper
Rolling pin (we used a hydroflask actually)
9″ pie pan or other dish for baking
Mixer (or just the whisk again)
Instructions
Preheat oven to 375F
Combine flour, sugar, baking powder and salt and mix.
Using a pastry cutter (if you're fancy) or fork and knife (if you're a real person) cut 5 Tablespoons of butter into dry mix
Add milk and mix until all ingredients are combined.
Dump dough onto a very well-floured surface and roll until it forms a cohesive ball. Continue to flour the surface you are working with as needed. Seriously, if you don't flour it enough your entire countertop will become one with the dough.
Generously sprinkle flour on the top of the ball of dough and place a large piece of wax paper on top. If it is too sticky, add more flour!!
Use a rolling pin to roll dough out to roughly a 10×12″ rectangle. Sometimes there are still chunks of butter left in the dough that aren't fully combined, this is okay! It will turn out great, don't give up!
Remove the wax paper and make your filling by combining brown sugar, sugar, and cinnamon and then stirring in butter and vanilla. This will be very much like a paste.
Spread the filling over the rectangle of dough, leaving about ¼" of space as a perimeter around the filling.
Carefully roll dough starting with one of the 12″ ends and rolling tightly. Press the edge of the roll into the dough so that it sticks.
Cut the log, spacing your cuts about 1″ apart. If the log is not holding its shape well, transfer it to your freezer for about 10 minutes and then try to cut again (it should hold it's shape this way so you will have mostly round cinnamon rolls) I found that a serrated knife is best for this step over a super sharp chef's knife.
Place the reserved 2 Tbsp of butter into a 9″ pie pan and set it in your preheating oven for a few minutes until the butter has melted. Remove from oven.
Place your cinnamon rolls in baking dish, they do not need to be touching (but it's ok if they are), they will spread to fill their surrounding area.
Bake on 375F for 28-30 minutes (beginning to lightly brown around edges). Prepare your icing while the rolls are baking.
With mixer (could be a stand-up mixer, hand mixer, or your hand and a whisk), combine cream cheese and butter and vanilla.
Gradually add sugar, scraping down the sides of the bowl as needed.
Add milk, stirring until combined.
When cinnamon rolls are finished, remove from oven and allow to cool for 5 minutes before spreading icing over rolls.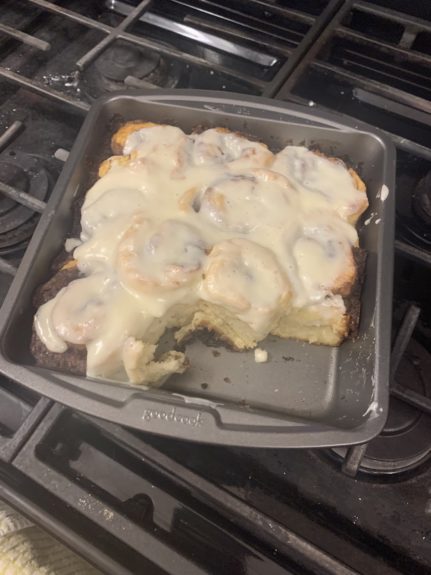 Swirly rolls Featured Image via Pixabay
More realistic cinnamon rolls via Maya's phone