Chef Mike take notes!
Try this super simple recipe for a slightly elevated French toast experience! Perfect for breakfast, dessert, or a late-night snack!
Ingredients
1 loaf of brioche bread
4 eggs
Ground cinnamon
Vanilla extract
1 cup of milk
Nutella/Cream Cheese/Jam or whatever filling you want
Maple syrup (optional, but not really)
Steps
Whisk together the eggs, cinnamon, vanilla extract, and milk (I usually eyeball the mesurements of the cinnamon, vanilla extract, and milk)
Slice the loaf of bread into an even amount of slices and make sandwiches with the filling inside. Be careful that not too much of the filling spills out the sides so it doesn't get in the egg mixture.
Dip sandwiches in the egg mixture so they are completely covered.
Butter a pan and put it on medium heat.
Cook the sandwiches into the pan until they are golden brown (about 3 minutes each side).
Serve with maple syrup and enjoy!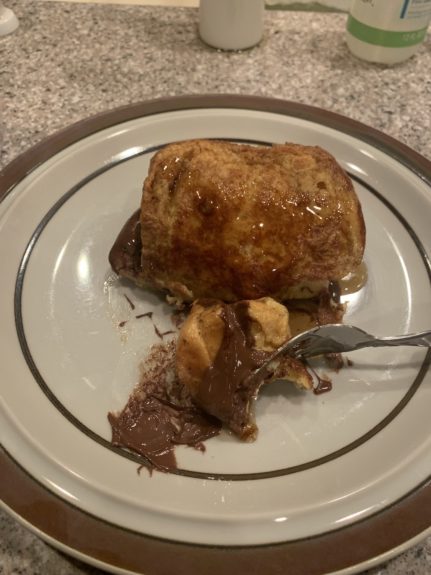 Good eats via Maya Campbell