The hidden gem of Barnard Housing.
Location: Barnard Quad, adjacent to Claremont St.
Nearby Dorms: Brooks, Reid, Sulz, Sulz Tower, 600s
Stores and Restaurants: Pretty much everything on Broadway: Shake Shack, Ivy League Stationers, Morton Williams, Pret a Manger, Starbucks, Sweetgreen, and the 116th and 115th halal carts!
Cost: $5,869 per semester
Amenities
Bathrooms: Either female or all-gender communal bathrooms on every floor. Each bathroom has four showers. You can also access any other bathroom in the quad if you prefer to go to a different floor or building.
Kitchen/Lounge: Small kitchen and lounge area on each floor in Sulz, but these can be a bit inconvenient to access and are often full with Sulz residents, so don't count on cooking very often. On the second floor, there is a microwave in the elevator area!
Laundry: Two washing machines and two dryers are located on every floor in Sulz and Reid (I recommend going to the Reid ones, which tend to be less full).
Dining: If you're a Hewitt Dining Hall fan, this is obviously the place for you (although you do still have to walk through the Barnard Hall entrance), but if you're not a Hewitt Dining fan, all other dining halls on both Barnard and Columbia's campus are a short walk away!
AC/Heating: No AC, but there is (adjustable!) heating in the winter and a large box fan provided to keep you cool that can also drown out any late-night noises in the hall.
Room Variety: Corridor style; mostly singles, with the occasional double or triple.
Numbers
Mostly sophomores and juniors, a few seniors, and, in recent years, some first-years as well. Sophomores with a high lottery number, as well as most juniors and seniors, have a good chance of getting into a Hewitt single.
Bwog Recommendations:
Hewitt gets a bad rap, but the convenience of living in a single so close to campus makes up for some of its downsides, which include not having an easily accessible kitchen and communal bathrooms.
You aren't required to be on the quad meal plan while living in Hewitt unless you're a first-year! I've heard rumors that say you have to be, but I've lived in Hewitt as a sophomore and junior on the Flex 150, which, in my opinion, is the ideal plan for someone who can't cook very often but still wants to have plenty of points.
The Hewitt showers are also infamous, and although I find them to really not be that bad, you also have the option of going to the Brooks or Sulz bathrooms to shower instead (I suggest Brooks for the detachable shower head and stronger water pressure).
Try to get a room on the side of the hall facing Claremont, not only for the nice views but also to avoid the panopticon experience of everyone currently in the quad being able to see into your room.
Resident Opinions
"Overall a great place to live if you don't like cooking and don't mind communal bathrooms."
"Floormates complain about the bathrooms being gross, but in my opinion, it's totally bearable."
"Cute and convenient!"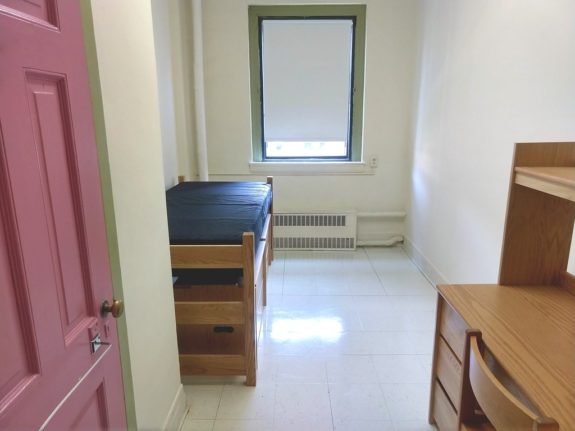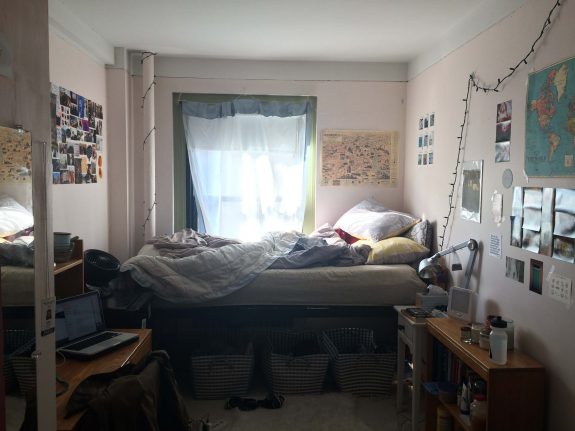 Hewitt facade via Bwarchives
Empty Hewitt single via Barnard Res Life
Hewitt single via Bwarchives