A pair of huge upsets last week set the stage for a fierce battle in the penultimate round of this year's Bwarch Bwadness.
We're down to four!
Welcome back to the inaugural Bwarch Bwadness, a tournament of the best and brightest stars of Barnumbia University in the City of New York. What started as a field of 16 has now been narrowed down to just four contestants who have two weeks left to prove their worth and take home the crown. Who will it be?
This last week was a wild one. You voted, we counted, and here's the remaining field:
8. The Hole Where The JJ's Milkshake Machine Should Be vs. 5. The Columbia US News Saga
Upset alert! Down goes the Baroness!
The Hole Where The JJ's Milkshake Machine Should Be did the improbable and knocked off the top-seeded PrezNouche with a resounding 63–41 victory. What a Cinderella story! Two weeks in, The Hole has proved itself to be quite the formidable foe, and with this upset over The Baroness, The Hole heads into the Bwinal Four with great momentum. Will they be able to harness this momentum and move on to next week's Bwampionship?
If that were to happen, The Hole would have to take down another giant: the fifth-seeded Columbia US News Saga. Saga made easy work of its contestant in the last round, toppling the 13-seed Futter Field Dirt Patch with a score of 61–42.
Needless to say, we have two contestants on top of their game in this matchup, and anything could happen. Will fan support for The Hole remain high even though the milkshake machine has returned? Who will survive and advance? Who will be sent home? Only time will tell.
Another upset! Entering this tournament with the tenth seed, SSOL has far surpassed expectations. The student services website just cannot be stopped (ignoring, of course, that the website was recently shut down by Columbia and replaced by Vergil). SSOL grabbed the unexpected, 57–44 victory against 2. Undergraduate Expansion last week.
SSOL has a tough road ahead, however, if it wants to keep advancing in this tournament. This week's matchup against third-ranked Big Sub will be anything but easy. Barnumbia's biggest submarine sandwich is on a roll, cruising past the sixth seed, Book Culture Sales Table. After claiming that win by a comfortable 63–38 margin, we have to expect Big Sub to win this week and punch its ticket to next week's Bwampionship. But, this is Bwarch. Anything can happen.
Here's the updated Bwacket: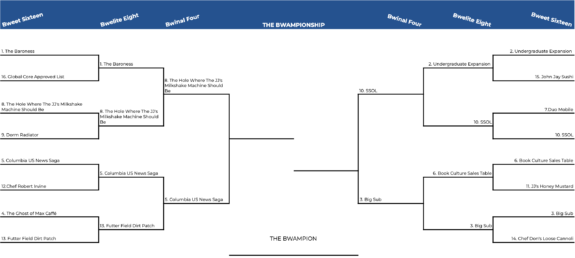 Voting via the form below will be open until March 28 at 11:59 pm. You can also vote via our Instagram stories later in the week.
Bwadness Header via Bwog Archives