Get a name change without taking the 1 to civil court.
There are some people who you'd rather not know your middle name. Perhaps it's your big secret. Columbia University, however, does not care—the moment you activate your UNI and send your first email, the cat's out of the bag:


Here's how to get that sucker back in the bag and change your preferred name. As this guide was written by a CC student, your mileage may vary if you're a Barnard affiliate.
1. Once you've activated your UNI, log in to ssol.columbia.edu.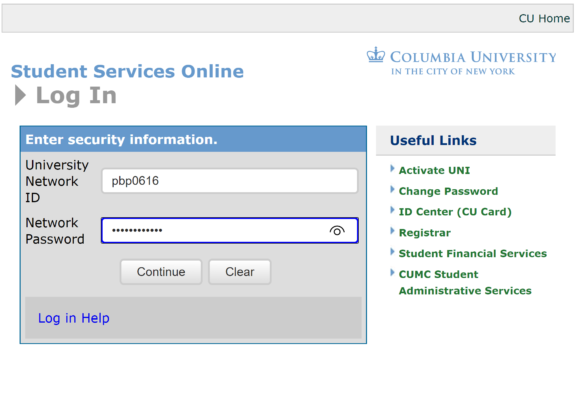 2. In the "Miscellaneous" section of the "Your Data" main menu, click on "Preferred Name."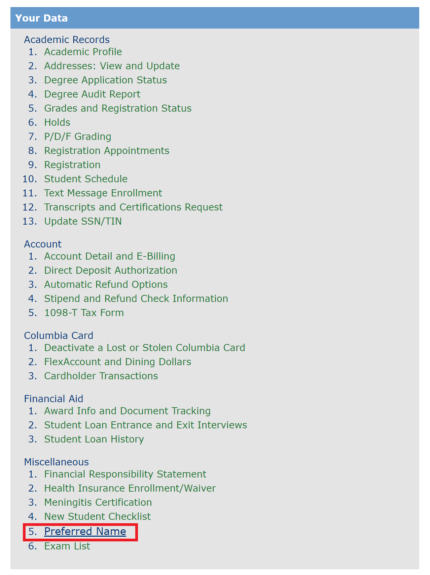 3. Type in the names you want—or erase the ones you don't want—and click "Change Preferred Name." (Note that there's no way to change the last name from this form, just the first and middle names.)

Your preferred name may take a day or two to appear in the following locations:
Your school Gmail LionMail account
Class rosters
SSOL
Canvas CourseWorks
The public directory (unless a FERPA information block has been requested)
Any newly-issued CUID card (this one takes a week to update)
Note that your preferred name will not appear in the following locations:
Academic certifications
Athletics rosters
Department of Public Safety rosters
Diplomas
Federal requests for information
Financial aid
International Students and Scholars Office (ISSO) documentation
National Student Clearinghouse ("It's how Spotify knows if you're actually a student or still mooching off your university email address. But more importantly, employers across the country use it to verify job applicants' education background.")
PowerFAIDS
Student Financial Services documentation
Transcripts
If you've done everything right, the next email you send should look like so:


Shit. How'd that happen?
Clearninghouse blurb via Brandon Dorn