We are all property of Latenite.
The thing about Latenite is nobody knows what's going on…ever.
The Latenite Prank Show is when the cast gets wildly drunk and changes every sketch to "prank" the directors. (We have some questions to start—how many drinks did this cast have? When did they start drinking?)
Having not gone to any of the previous performances, the Prank Show felt like a fever dream. The Saturday Latenite performance was full of eager Bwoggers at various levels of intoxication, so we obviously had different takeaways of the sketches.
"I Met a Guy Who Loved Nothing More Than the Lanternflies"
Synopsis
Lanternflies beg to be killed by Jen.
Sober Take
I loved "Please kill the lanternfly! No Jen, kill us Jen, we like it!" Also, putting whipped cream in a can of Raid was genius. Might trick my roommates with that…
Drunk Take
After watching this, all I could think of was wanting to go to the club. Something about the devil horns…I don't know. I also enjoyed the ambiance of the red lighting—made me feel hot and sexy.
Sober Take's Response To Drunk Take
What's sexy about a fly swatter?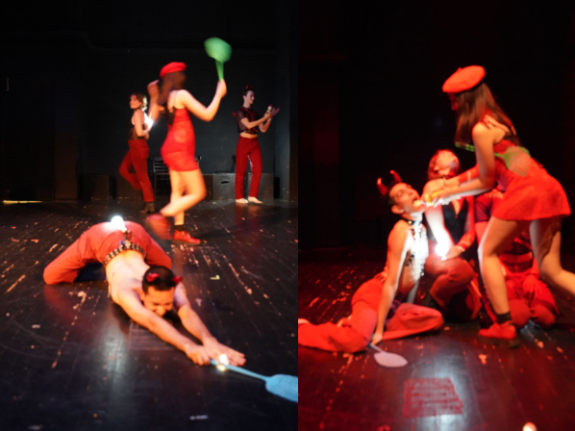 "Fanfiction"
Synopsis
Two middle school girls write a fanfiction about an affair between Jill Biden and Hillary Clinton.
Sober Take
I thought the line "President Clinton was the most eligible girl in the land" was hilarious, but I wouldn't be surprised if it was taken directly off of Hillary Clinton's Twitter.
This whole sketch was extremely confusing though. The characters who were originally playing Hillary Clinton and Jill Biden eventually switched roles??? I wish I was drunk because then I wouldn't have noticed the plot holes.
Drunk Take
Ok. This skit was gold. All I can say is I love a good political satire, and this delivered. Of course I didn't really know the plot but I was also unaware that there was supposed to be one.
I was simply just fixated on the actors, two of which were portraying very powerful, very professional women. Not in LAtE NiTe !!!!!! Late Nite goes big. And I like that.
Sober Take's Response To Drunk Take
latenitelatenitelatenitelatenitelatenitelatenitelatenitelatenitelatenitelatenitelatenitelateniteLATENITE!!!

"Spinach Kale Caesar: a sweetgreen orgy opera"
Synopsis
Just read the title.
Sober Take
The polyphony of the ingredients reminded me a bit too much of Potter Puppet Pals…that's all I'll say.
Drunk Take
Ok what I remember of this was a salad spoon stood next to me in the audience and proceeded to conduct a set of vegetables to stand up and yell expletives on stage. I was confused but happy. Overall, very enjoyable.
Sober Take's Response To Drunk Take
I made eye contact with the salad spoon and it felt like they bestowed upon me some terrible, unspeakable knowledge.


"Clockwork"
Synopsis
?????
Sober Take
Something about feet???? I don't know who Lord Cobblejawn is supposed to be, but the entire time I thought they were saying "Lord Papajohn." A mannequin head was also being thrown around with someone's face plastered on it—were we supposed to know who?
Drunk Take
You guys. I don't remember this one. Truly, no recollection </3.
Sober Take's Response To Drunk Take
I just want to know where Lord Papajohn is…

"A Chance Encounter"
Synopsis
A girl wearing a shirt of Idaho with the words "Iowa" walks on the stage, imitates smoking a cigar, and leaves.
Sober Take
This one absolutely took me out. The scarf. The baggy pants. The smug grin of the lead. Iowa…Idaho…What more could you ask for! Maybe this says something about my sense of humor, but I thought this sketch was the funniest out of them all.
Drunk Take
This skit sent me. Made me want a cigarette. It was simple and effective. I was drunk and it still made sense (high praise). It was ultimately reminiscent of a Disney Channel crossover episode circa 2011.
Sober Take's Response To Drunk Take
I don't know how this would be reminiscent of a Disney Channel crossover episode circa 2011 but…I see it. You're so right. Maybe it's just that the lead looks vaguely like Rowan Blanchard.

"Freudian Slip"
Synopsis
Sigmund Freud brings two women on stage with the intention to teach people "the truth about sex." A horde of men interview the two women.
Sober Take
I could have listened to Freud for ages. Her Doofenshmirtzian accent was impeccable. The sign-holder in the back kept a straight face the entire time, which I thought made the sketch so much more hilarious.
Drunk Take
One of my own personal favorite bits to do is incorporate 'Freudian slip' into my daily vocabulary. SO this skit was perfect for me. Mrs. Freud you STAR. Hahahha seriously this one was great, especially while wine-drunk.
Sober Take's Response To Drunk Take
Now that you point that out, I feel like this would've been so much better if Freud himself was wearing a slip dress.

"Mile High"
Sober Take
It started on a plane and all of a sudden they were rowing??? Was a plane crash supposed to have taken place??? I have to admit, the rower guy stole the show.
Drunk Take
I loved all the flight attendants in this. Giving cohesive vibes. Sitting in a line like the NYC Rockettes bro.
I very truthfully do not recall much of the plot but, hey, flight attendant comedy is always good.
Sober Take's Response To Drunk Take
I have nothing to add.

Final Thoughts
We wish the Latenite Prank Show was longer than forty-five minutes. It also might be funny if instead of alcohol, the Latenite cast performed after being forced to stay awake the entirety of the night before. Sleep deprivation somehow seems to induce much more laughter than alcohol does. That would also be especially funny during finals week. Or maybe that's just cruel…
Images via Olivia Kuan-Romano