After a week of unpredictable upsets, a new slate of matchups is ready to take place.
Welcome to the second round of action in the inaugural Bwarch Bwadness, a tournament of the best and brightest stars of Barnumbia University in the City of New York.
Here are this week's matchups:
The Baroness vs. 8. The Hole Where The JJ's Milkshake Machine Should Be
The top seed in the tournament blew past the Global Core Approved List with ease, earning a 94–57 victory and living to see another round of action. Sorry, Global Core Approved List, maybe next year will be your year.
The Baroness will face a tougher test this week against 8. The Hole Where The JJ's Milkshake Machine Should Be, who won with ease in a 106-45 demolition against ninth-seeded Dorm Radiator. Will PrezNouche continue to prove she has what it takes to make a title run this year? Or will The Hole pull off the big upset and punch its ticket to the Bwinal Four?
Undergraduate Expansion vs. 10. SSOL
Undergraduate Expansion faced a tougher test than expected in the first round, narrowly escaping an upset from the 15-seed John Jay Sushi. It was a slim margin of victory, with Undergraduate Expansion claiming the nail-biter with a final score of 81–72. John Jay Sushi, it was a good effort. Respect.
SSOL barely escaped the first round itself, pulling off a narrow upset against 7. Duo Mobile with a score of 81–73. Will SSOL have what it takes to keep the momentum rolling? Or will Undergraduate Expansion shake off the first-round nerves and make quick work of the underdog?
5. The Columbia US News Saga vs. 13. Futter Field Dirt Patch
Expert Bwacketologists were on upset alert last week when 5. The Columbia US News Saga took on 12. Chef Robert Irvine. The worry turned out to be misplaced, as Saga took down Irvine by a more-than-comfortable margin of 108–41. Ouch!
As it turns out, a different upset was brewing. This year's Cinderella is none other than 13. Futter Field Dirt Patch, who pulled off the improbable, making easy work of the fourth-seeded Ghost of Max Caffé. 84–61 was the final score, and we will see if Dirt Patch's miracle run continues against Saga. This one feels like a true toss-up.
3. Big Sub vs. 6. Book Culture Sales Table
It was a big day for Big Sub. Chef Don's Loose Cannoli proved no match for the 750-foot giant, who walked away with a 91–63 Bweet Sixteen factory. But let's not praise Big Sub for beating up on the smaller pastries.
This week, Big Sub will face a much more formidable foe in 6. Book Culture Sales Table, who won its first-round matchup against 11. JJ's Honey Mustard 89–52. It will be a battle between a big sandwich and a big bargain; who knows how it might play out?
Here is the updated Bwacket: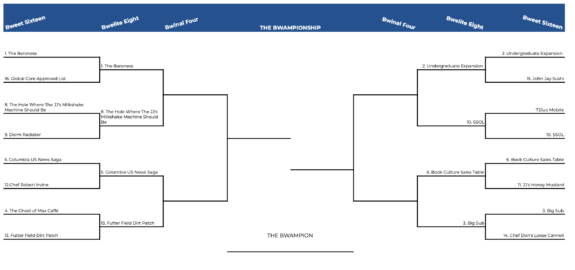 Thanks to Spring Break, voting will be open for two weeks this time, closing on Tuesday, March 21 at 11:59 pm. Vote via the Google Form below, or stay tuned to Bwog's Instagram for information to vote there in the coming weeks!
Bwadness Header via Bwarchives