There's like 150 room assignments left… but more than 150 students left to choose… I'm concerned.
Sophomores continued to choose today. Lower lottery numbers meant that all that's left is pretty meager options, but somehow, the suites in Plimpton and 47 Claremont remain. The only question left is: how will Columbia fit the remaining students into the few options left? Today was the last day of Barnard housing! However, anyone who went in as an individual had to drop to the guaranteed list since the only remaining rooms after Day 4 (Friday) were doubles. This also meant that groups of 3 also had to either all go to the guaranteed list or only one would. There are still 18 dorms available, however those rooms will most likely go to those on a guaranteed list. It looks like people really did not want to touch those Elliot doubles, while the rest of the remaining ones are scattered throughout the suite-style living.
Want updates on what's left? Follow our live housing thread. And if you're being forced into choosing a room that you know nothing about, check out our 2021 Housing Reviews to get an idea of what your next year will look like.
Columbia Edition:
What's Gone:
Somehow, all buildings from yesterday still remain
What's Scarce:
What's Left:
Barnard Edition:
What's Gone:
What's Left: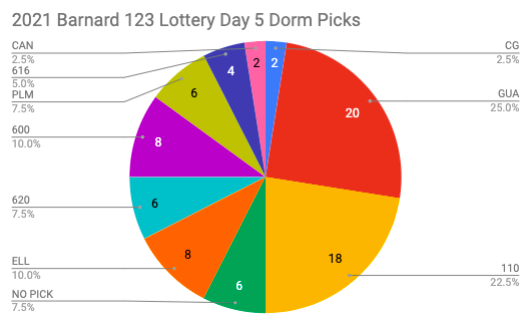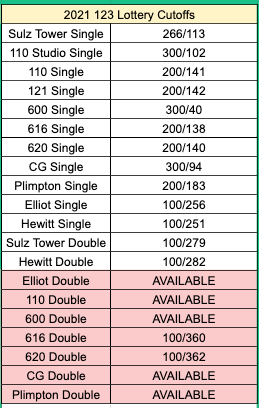 Looking Ahead:
Barnard's 123 Lottery finished today, but we've still got a bunch of unlucky Columbia sophomores awaiting their chance to choose housing. With so few options left but plenty of students, it's starting to look like people will be forced into some alternative housing assignments.
carlton is still holding on! via Bwog Archives