Columbia sophomores, don't despair, you still have plenty of great options; Barnard upperclassmen, you have nothing to worry about.
Columbia Edition
Sophomore housing selection is in full swing. As expected, singles are rapidly dwindling, and most Sophomores will have to confront the reality: you'll probably be living in a double next year.
For live action updates, check out our live housing Twitter thread, and of course, as you make your last-minute decisions, check out our 2021 housing reviews.
What's Gone:
All of Furnald – bid farewell to your air-conditioned-single dreams
Singles in Shapiro – good single options are dwindling
What's Scarce:
What's Left:
Looking Ahead:
If you're picking early tomorrow, there's still hope! Seven lucky people can still get a corridor single, and against all odds, there are quite a number of suites left. If you've got a housing group of at least 6, you're still in the running. Seven-person groups…don't sleep on the Claremont suites; they're lovely, I don't understand why nobody is choosing them.
If you're picking later in the day, or if you have a small housing group, you've got a number of doubles to choose from…so which should you choose? You basically still get the pick of most dorms, so aim for high floors, and make sure you check which direction your windows face – if you hate noise, don't pick street-facing windows, if you need sunlight, go for south-facing windows, etc. More stuff to look out for: bathroom ratio, how many people will be on your floor, square footage of the rooms, and how close or far a room is from the lounge/kitchen/bathroom/elevator/etc. Basically, poke around on the housing website floor plans, there's plenty of hidden gems in there.
Barnard Edition
The most popular choice for today was obviously Sulz Tower, which is a given. However, many seniors who likely wanted suite-style living also picked into 121. There were also 3 singles in 600 that are now completely gone.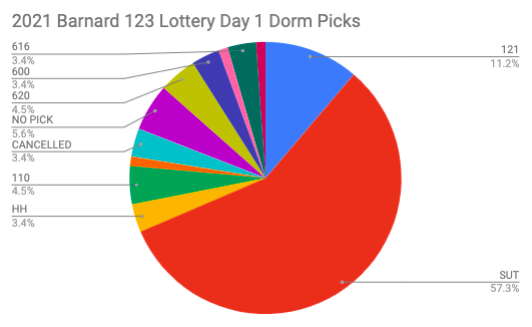 What's Gone:
What's Scarce:
What's Left:
Looking Ahead:
Tomorrow will see the remaining seniors pick (approximately 33 groups) and then the lottery will continue with mixed junior-senior groups and will start with juniors. Sulz Tower singles will definitely be gone, however, depending on what is picked, there may be a tiny (read: minuscule) change that if seniors don't choose Sulz Tower, that some juniors may be able to pick in. Otherwise, suite-style singles will be next to go starting with 121.
Sulz Tower via Barnard Housing